Mokolodi Nature Reserve
This 300-hectare reserve is just nine miles (15km) from Gaborone and contains examples of most of the local flora as well as an impressive collection of indigenous animals such as the white rhino, mountain reedbuck, various antelope, zebra, giraffe, hyena, and warthog. The reserve was created by a non-profit organisation for the purposes of conservation and education, and was established in 1994. It offers thatched self-catering chalets for those wishing to spend a night or two, and game drives and guided walks with experienced rangers.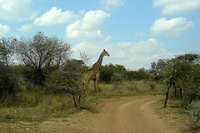 Giraffe jurgen.proschinger
Gaborone Game Reserve
Although smaller than most, at just under 600 hectares, the Gaborone Game Reserve is the third busiest game reserve in Botswana, providing a very popular venue for city residents in which to unwind. Serving as a popular escape for city dwellers with picnic sites, a bird and game hide, and a network of game viewing roads, Gaborone Game Reserve has a vast array of facilities despite its smallish stature. The park is home to rhino, ostriches, zebra, a variety of antelope and like most game reserves in Botswana, is very popular with bird watchers. Conveniently located just outside Gaborone, the reserve can be an easy day trip for those who land in the capital.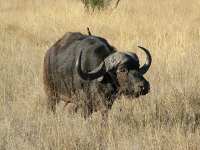 Buffalo Soerfm
The climate of Gaborone is semi-arid, meaning it is hot and dry for most of the year. There is little distinction between average summer and winter temperatures, although in winter months it can be chilly at night. Rain is erratic, but falls mostly in summer in heavy localised downpours that are followed quickly by a return of strong sunshine. Summers are extremely hot with high humidity in the mornings. The best time to visit Gaborone is during spring or autumn when the weather is warm and dry.
Sir Seretse Khama International Airport
Location:
The airport is located nine miles (15km) north of Gaborone.
Getting to the city:
Hotel minibuses and taxis provide transport to the city centre.
Car Rental:
Avis, Hertz, and Europcar are represented at the airport.
Fascilities:
There is one terminal building which offers a Barclays Bank bureaux de change, bar and restaurant, and duty-free shop for flights outside of the Common Customs Union (South Africa, Lesotho, Swaziland).
Public transport within Gaborone is somewhat limited. Licensed taxis are identified by their number plates, which have a blue background. These are usually shared and carry up to five passengers. Minibus taxis are also available and usually travel a specific route, and pass through the station or mall. These are easily hailed and passengers usually tell the driver to stop when they want to get off. There are also train services between Gaborone and Francistown and Gaborone and Lobatse. Four-wheel drive vehicles are a popular choice for exploring areas outside of the city and Gaborone has several reputable car rental agencies. Gaborone's roads are tarred and usually in good condition, but drivers have to be on the look out for stray animals.
Gaberone is perfect for wildlife enthusiasts intent on enjoying a safari in one of Botswana's famed game parks. The city serves as the ideal gateway to their adventures. This sprawling city, not too far from Johannesburg, is on the doorstep of the Mokolodi Nature Reserve offering game drives and walks, and the city itself boasts some good shopping opportunities so visitors can purchase mementoes to take home from their holiday.
There are also numerous cultural attractions in Gaborone including the National Museum and Gallery, which give visitors insight into the local culture of the region. Alternativley, tourists can take a look at the impressive Hare Krishna Temple or spend some time in the Thapong Visual Arts Centre.
The best time to visit Gaborone is during spring or autumn (September/October or March/April/May), as summers can be blisteringly hot and during winter it can be very chilly at night.
Khutse Game Reserve
Established in 1971, the Khutse Game Reserve encompasses 965 square miles (2,500 sq km) of semi-arid Kalahari bush savannah in the Bakwena tribal lands. Boreholes have been sunk into this undulating terrain to provide more water and encourage wildlife to stay in the area year-round. Visitors are now drawn to this undeveloped wilderness to see a wide range of herbivores including giraffe, gemsbok and wildebeest, as well as predators such as lion, leopard and cheetah, and birdlife ranging from wild ostriches to little browns. Visitors may only stay at marked campsites and there are no other tourist facilities available in the reserve.
Address:
130 miles (210km) north-west of Gaborone.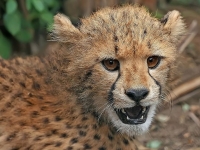 Cheetah Cub Muhammad Mahdi Karim
Kgalagadi Transfrontier Park
The Kgalagadi Transfrontier Park, located in both Botswana and South Africa, extends over 15,000 square miles (38,000 sq km) of the southern Kalahari Desert. About three quarters of the park lies in the extreme south-west of Botswana, locally known as the Gemsbok National Park. Visitors to the park can witness the fragile balance between migratory animals and their predators in this harsh, semi-arid environment - a real African safari experience. There are campsites available for visitors but other tourist facilities are very limited.
Address:
Kgalagadi District, about 537 miles (865km) south-west of Gaborone.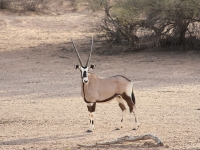 Gemsbok Malapo Country Lodge
Central Kalahari Game Reserve
At 20,380 square miles (52,800 sq. km), the Central Kalahari Game Reserve is larger than some European countries, such as Denmark or Switzerland, and is bigger than Lesotho and Swaziland put together! Indeed, the reserve is the second largest on earth and its sand dunes, saltpans, riverbeds, mopane forests and vast open plains are home to an array of fascinating wildlife species, as well as settlements of local Basarwa or San tribes - an exciting combination of both environmental and cultural experiences for visitors.
Address:
Central Botswana, just over 200 miles (322km) from Gaborone.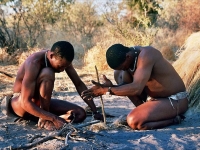 Bushmen Ian Sewell