Visitors can choose to experience Botswana's incredible wildlifeand scenery in many ways, from self-drive four-wheel-drive journeysto chartered five-star safari packages.
Maun is the country's main tourist hub and gateway to theOkavango Delta. A popular way to explore is a guided journey in a (dugout canoe). Visitors can stay in tented camps inMoremi Game Reserve, enjoying some of the world's densestconcentrations of wildlife, or take a four-by-four trip throughChobe National Park, encountering predators at Savuti, and largeherds of Elephant at the Linyanti marshes. The delta is alsoworld-renowned for its freshwater fishing safaris, October beingthe best time to visit. Just south of Moremi and Chobe lies theMakgadikgadi Pans National Park where visitors can overnight atBoteti River before exploring the astonishing scenery of the saltflats.
Botswana's north east corner houses the border town of Kasane,the meeting point with Zambia, Namibia and Zimbabwe. Head acrossthe border to see Victoria Falls, one of the seven natural wondersof the world. A scenic flight over the falls is an unforgettableexperience. North west is home to the Tsodilo Hills, a spectacularexample of ancient rock art and a UNESCO World Heritage site.
For those seeking some peace and quiet, the vast expanse of theKalahari Desert awaits. The Central Kalahari Game Reserve is one ofthe largest reserves in Africa, roughly the size of Denmark. Here,visitors can encounter iconic black-maned lions, camp in DeceptionValley to see the rare brown hyena, and go for guided walks withthe indigenous San hunter-gatherers. Right in the south, theKgalagadi Transfrontier National Park is home to huge red sanddunes and large migratory herds. Visitors will encounter few othertourists down here in the raw heart of Africa.
Mokolodi Nature Reserve
This 300-hectare reserve is just nine miles (15km) from Gaboroneand contains examples of most of the local flora as well as animpressive collection of indigenous animals such as the whiterhino, mountain reedbuck, various antelope, zebra, giraffe, hyena,and warthog. The reserve was created by a non-profit organisationfor the purposes of conservation and education, and was establishedin 1994. It offers thatched self-catering chalets for those wishingto spend a night or two, and game drives and guided walks withexperienced rangers.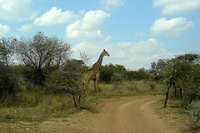 Giraffe jurgen.proschinger
Moremi Wildlife Reserve
Moremi, about 37 miles (60km) from Maun, is a 1,160 square mile(3,000 sq km) reserve in the middle of the Okavango Delta, in oneof the world's most pristine wilderness areas. Accessible by air orroad from Maun, self-driving is recommended for experiencedfour-wheel-drive enthusiasts in the dry months. Alternativelyvisitors can join safari packages from the reserve's luxury lodges.A wonderful way to see the delights of the Delta is on a mokoro (adug-out canoe), which is poled through the waterways by experiencedguides. Stay in unfenced camps and experience nature at its purestin the heart of Africa.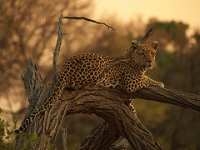 Leopard 7 Jim Frost
Chobe National Park
The second largest game park in Botswana, Chobe comprises fourregions; the river floodplains and teak forest, the Savute marshes,the Linyanti swamp, and the dry hinterland. Chobe is especiallywell known for its immense elephant population, counting more than70,000, and it is not uncommon to encounter herds in excess of ahundred members at a time. The Chobe River forms the northernborder of the park, and makes for excellent game-viewing by boat.There are a number of game lodges, hotels and camps in the Chobearea and at Kasane, the main town in northern Botswana, which hasan airport and good road network. Close to the Zimbabwean border,Victoria Falls lies barely an hour's drive away.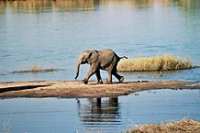 Baby Elephant Ian Sewell
Tsodilo Hills
To the west of the Okavango Delta area, about 33 miles (53km)from the town of Shakawe, is a mysterious site shrouded in myth,legend and spiritual significance for the local San people, whohave inhabited the area for 35,000 years or more. The Tsodilo Hillsare believed by the San to be the site of first Creation. The areais festooned with thousands of rock paintings representing avariety of scenes, some of which date back to 1,300 AD. Severaltrails lead to more than 350 rock painting sites. The area isremote, with no shops or accommodation facilities, but it ispossible to camp and draw from borehole water.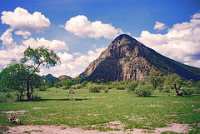 Tsodilo Hills Wildlife Wanderer
Gaborone Game Reserve
Although smaller than most, at just under 600 hectares, theGaborone Game Reserve is the third busiest game reserve inBotswana, providing a very popular venue for city residents inwhich to unwind. Serving as a popular escape for city dwellers withpicnic sites, a bird and game hide, and a network of game viewingroads, Gaborone Game Reserve has a vast array of facilities despiteits smallish stature. The park is home to rhino, ostriches, zebra,a variety of antelope and like most game reserves in Botswana, isvery popular with bird watchers. Conveniently located just outsideGaborone, the reserve can be an easy day trip for those who land inthe capital.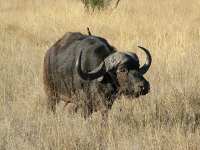 Buffalo Soerfm
Makgadikgadi Salt Pans
The Makgadikgadi Pans are located in the north-east of thecountry and are among the largest salt flats on earth, covering6,200 square miles (16,000km²) of the Kalahari basin. During theannual rains, the pans become a source of fresh water and grass formigratory wildlife, especially the massive wildebeest and zebraherds that move through the area. Self-drive visitors are advisedto use only four wheel drive vehicles as the terrain can betesting. A good map and a GPS system are also essential, as gettinglost in the desert can be disastrous. Also, as a general rule, itis advised that visitors drive in the tracks of other vehicles andkeep to the edge of the pan.
Address:
About 200 miles (322km) south-east of the OkavangoDelta.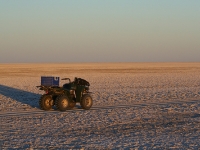 Salt Pans tboothhk
Money:
The unit of currency is the Botswana Pula (BWP), which isdivided into 100 Thebe. Major credit cards are widely accepted, andforeign currency is accepted at most large hotels and lodges. Thereare banks and bureaux de change in all the main towns, as well asATM machines.
Language:
English is the official language but Setswana is the mostwidely spoken language.
Electricity:
230 volts, 50Hz. Round three-pin plugs areused.
Entry Requirements:
US nationals require a passport valid for at least six monthsfrom date of arrival, but do not require a visa for stays of up to90 days.
UK nationals require a passport valid for at least six monthsfrom date of arrival, but do not require a visa for stays of up to90 days.
Canadian nationals require a passport valid for at least sixmonths from date of arrival, but do not require a visa for stays ofup to 90 days.
Australian nationals require a passport valid for at least sixmonths from date of arrival, but do not require a visa for stays ofup to 90 days.
South African nationals require a passport valid for at leastsix months from date of arrival, but do not require a visa forstays of up to 90 days.
Irish nationals require a passport valid for at least six monthsfrom date of arrival, but do not require a visa for stays of up to90 days.
US nationals require a passport valid for at least six monthsfrom date of arrival, but do not require a visa for stays of up to90 days.
New Zealanders require a passport valid for at least six monthsfrom date of arrival, but do not require a visa for a stay of up to90 days.
Passport/Visa Note:Visa:
All visitors require return or onward tickets and sufficientfunds to cover their stay in Botswana. Visas are generally notrequired for stays of under 90 days. It is highly recommended tohave six months' validity remaining on your passport, as borderagents occasionally apply different guidelines to those stated.
Travel Health:
Malaria is a particular risk in Botswana between November andJune in the northern parts of the country. Visitors who are campingor walking in the bush should be cautious of tick bites. There areno compulsory vaccinations, but a yellow fever vaccinationcertificate is required from travellers over the age of one comingfrom infected countries.
Botswana has a good public health system, but facilities arelimited outside urban areas. Health insurance for visitors isvital. Tap water in towns is generally safe to drink, and allfoodstuffs are safe to consume.
Tipping:
Tipping is expected in tourist hotels and restaurants. Manyautomatically add a service charge, but where not, a 10 to 15percent tip is appreciated. Taxi drivers, porters and golf caddiesshould also be tipped a relative amount. Tour guides, trackers andgame rangers rely largely on tips for their income and should bepaid accordingly.
Safety Information:
The majority of visits to Botswana are trouble-free, butvisitors should be aware of the increasing incidence of crime,particularly armed robbery and rape, in the main towns. Wildlifeand livestock make driving hazardous, so driving at night should beavoided.
Local Customs:
Homosexuality is illegal. Taking photos or videos neargovernment or military buildings is prohibited, and permissionshould always be sought before taking photos of local people.
Business:
Business is fairly relaxed in Botswana and dress is generallysmart casual. Handshakes begin and end meetings, which are usuallyheld in private. Women are often viewed with a certain amount ofsexism, but will be politely treated. Office hours are usually 8amto 5pm Monday to Friday, or 7.30am to 4.30pm Monday to Fridaybetween October and April.
Communications:
The international access code for Botswana is +267. The outgoingcode is 00 followed by the relevant country code (e.g. 0027 forSouth Africa). Gaborone's area code is 31, 35, 36 or 39; there isno NDD prefix for calling within Botswana. Mobile phones operate ona GSM 900 network and are limited to urban areas; most NorthAmerican cell phones will not work. Wifi is available at largehotels and shopping malls, however the speeds are unlikely to matchthose that travellers from North America and Europe are accustomedto.
Duty Free:
Travellers to Botswana over the age of 18 can enter the countrywith 400 cigarettes; 50 cigars or 250g of tobacco; 2 litres of wineand 1 litre of alcoholic beverages; 50ml of perfume and 250ml ofeau de toilette without incurring customs duty. Gifts and personalgoods to the value of P500 can also be imported without incurringcustoms duty.