Fort Hamilton
Fort Hamilton is a substantial Victorian fort with a panoramic view of Hamilton Harbour, built in the mid-19th century during a period of rising tensions between Britain and the USA. The ramparts are mounted with 18 ton artillery pieces capable of firing 400 pound (181kg) cannonballs through iron-hulled vessels. Nearby is Clarence Cove, a popular beach forming part of Admiralty House Park. The house itself dates from the early 19th century, built as the residence of the Royal Navy's regional commander. Another military echo along North Shore Road, Black Watch Well, was dug by troops of the famous Scottish regiment during a drought in 1849.
Address:
Pembroke, Middle Road, Bermuda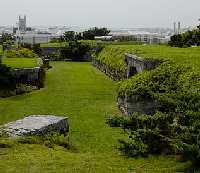 Fort Hamilton JoeyBagODonuts
Botanical Gardens
Paget is a delightful park providing the perfect environment to experience the island's flora. It is a fragrant haven of exotic subtropical plants, flowers, and trees. Highlights of this 36-acre paradise include the palm garden with native palmetto trees, the subtropical fruit garden, a garden for the visually-impaired which features scented plants, a ficus collection, and a flowering hibiscus garden. There are greenhouses with orchids, bromeliads, a miniature forest, an aviary, and a variety of flowering houseplants. The white house on the grounds of the Botanical Gardens is Camden, the official residence of Bermuda's Premier, open for tours except when official functions are scheduled.
Address:
Point Finger Road Pharmacy, 16 Point Finger Rd, DV 04, Bermuda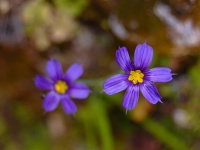 Bermudiana flower Sam Fraser-Smith
Harrington Sound
Harrington Sound is a large inland sea five miles (8km) northeast of Hamilton. Its calm waters provide perfect sailing territory. The Sound is linked to the ocean by the narrow Flatts Inlet where changes to the tide are magnified and waters rush beneath a bridge connecting the two sides. On the north side of the inlet, opposite Flatts Village, is the Bermuda Aquarium where visitors can enjoy more than 100 species of indigenous Bermuda fish in ocean and reef environments. Located within the same complex is the Natural History Museum and zoo that features animals from the Caribbean, Australia, Asia, Madagascar and the Galapagos.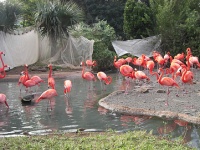 Flamingos at the Bermuda Aquarium Robyn2175
Crystal Caves
The stretch of land between Harrington Sound and Castle Harbour is riddled with caves. Located 80 feet (24m) underground, Crystal Caves never ceases to amaze with its dramatic stalactites and stalagmites. There is a wonderful walk over the pontoon bridge to Cahow Lake, with crystal-clear water that reaches a depth of 55 feet (17m). Visitors can also enjoy a leisurely stroll through the Palm Garden. A little further on are the Leamington Caves with their incredible crystal formations and underground pools that can be explored along well-marked paths. More caves are located on the grounds of the 300-year-old Walsingham House, now a well-known restaurant.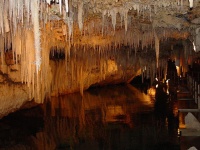 Harrington Sound's Crystal Caves Captain-tucker
Bermuda Railway Trail
Bermuda used to have a public railway that served the island's eastern and western cities between 1931 and 1948. In 1984, the government opened the Bermuda Railway Trail as a walking trail and bridle path. A great way to spend a few hours with the kids, the trail can also be cycled, ridden on horseback, or even roller-bladed in certain areas. This 21-mile (35km) trail is a great way to see the island's natural flora and fauna and to experience some breathtaking views and do a spot of bird watching. Organised walking tours are also available.
Railway Trail albedo20
The climate of Hamilton is sub-tropical, with sunny and hot weather all year round. There are no distinct seasons, but the hottest weather is during July, August and September when highs can hit 90°F (32°C). Generally the Gulf Stream keeps temperatures moderate. There is no specific rainy season, with showers occurring at any time of year, although the skies do clear rapidly.
L.F. Wade International Airport
Location:
The airport is located towards the north of the islands, 10 miles (16km) east of Hamilton.
Time:
GMT –4 (GMT –3 from first Sunday in April to the Saturday before the last Sunday in October).
Getting to the city:
Buses 1, 3, 10 and 11 service Hamilton and St Georges, but have no luggage storage space and cannot accommodate wheelchairs. Taxis are also available for hire at the airport.
Car Rental:
There are no car hire companies on the island.
Fascilities:
The airport terminal has ATMs and a currency exchange on the ground floor. The newly renovated shops in the check-in concourse sell a variety of goods including magazines, books, souvenirs, jewellery, perfume and clothing. Duty-free is also available. There are coffee bars/bistros, snack bars, and cocktail bars in both the US and international departure lounges.
Parking
Short-term parking costs BMD 1 per hour, up to a maximum of two hours. Long-term parking at Bermuda International Airport is charged at BMD 5 per day.
It is important to note that visitors to Bermuda are not allowed to rent cars. There are, however, several transport options, and the city of Hamilton and Bermuda itself are not large. A bus service operates in Hamilton and links it to other major points in Bermuda, with inbound service stops marked with pink-topped poles and outbound service stops marked with blue-topped poles. If transferring to another bus, be sure to ask the first driver for a transfer to avoid paying again. Transfers are valid for half an hour.
Ferries are another popular way to enjoy the sights of Hamilton and its surrounds, and scooters and mopeds are also available for hire. Walking and cycling are also excellent ways to get around. A traditional means of transport, and a fun way to enjoy the city, is on a horse drawn carriage ride.
A holiday in Hamilton is a holiday in the principal harbour town of one of the world's favourite Caribbean islands. Tourists are spoilt for choice when it comes to attractions and activities in the city. No one who travels to Bermuda can avoid visiting Hamilton, the focal point of the island's historic sight-seeing and tourist attractions. From Hamilton all the sightseeing boats, ferries and local buses depart and all the cruise liners arrive, and its busy Front Street is the main shopping area of the island.
Front Street is the life and soul of Hamilton City and centre of all the main activities. This is where most of the island's glittering shops, great restaurants, retail shops and many other commercial establishments like banks and insurance companies are located. And as expected, this is the busiest place in the island. A good place to start exploring is the Visitor's Information Center located next to the Hamilton ferry terminal. There are complimentary pocket maps and brochures available, and visitors can leave from here to enjoy the attractions on foot, or take the option of carriage ride - there is nothing more romantic than a horse drawn carriage taking a stately route through Hamilton City. There are of course buses as well that can take visitors to various points within the city and the outskirts in Pembroke parish.
From Hamilton it is a 15-minute walk to one of Bermuda's more recent attractions, the state-of-the-art Bermuda Underwater Exploration Institute. This is a multi-million dollar institute built to showcase the natural wonders of the surrounding oceans. The Institute offers a simulated dive in a capsule and interactive exhibits detailing local reef wrecks, plant and animal life. Also worth visiting is the Bermuda Historical Society Museum.