'You go to heaven if you want - I'd rather stay here in Bermuda.' gushed Mark Twain in the 19th century, and Bermuda's promise of sun, sea and paradise still lures thousands of vacationers to its shores year after year. The island is surrounded by a fantastic coral reef that harbours colourful fish and has ensnared scores of shipwrecks, making for memorable diving and snorkelling at spots like Elbow Beach in Paget Parish. Elsewhere, the crystal-clear waters of Southampton Parish provide the perfect conditions for kayaking and yachting.
The offerings on land are splendid as well. Visitors can play a round at one of nine world-class golf courses, including the Belmont Golf Club, Ocean View Golf Course, Port Royal Golf Course, St. George's Golf Club, and The Fairmont Southampton Golf Club. Booking ahead in summer is advised. Tourists can also hike peaceful trails and sunbathe on glorious, pink-sand beaches, or stroll the crooked streets of the colonial settlement of the Town of St George, Britain's oldest surviving town in the New World, which is so well preserved it has been designated a World Heritage site.
Bermuda boasts a balmy climate that's comfortable for most of the year and friendly people who readily strike up conversations with strangers. There is plenty of distinctive local colour as well, from a landscape of tidy pastel houses to dapper businessmen dressed in Bermuda shorts.
Fort Hamilton
Fort Hamilton is a substantial Victorian fort with a panoramic view of Hamilton Harbour, built in the mid-19th century during a period of rising tensions between Britain and the USA. The ramparts are mounted with 18 ton artillery pieces capable of firing 400 pound (181kg) cannonballs through iron-hulled vessels. Nearby is Clarence Cove, a popular beach forming part of Admiralty House Park. The house itself dates from the early 19th century, built as the residence of the Royal Navy's regional commander. Another military echo along North Shore Road, Black Watch Well, was dug by troops of the famous Scottish regiment during a drought in 1849.
Address:
Pembroke, Middle Road, Bermuda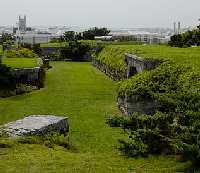 Fort Hamilton JoeyBagODonuts
Botanical Gardens
Paget is a delightful park providing the perfect environment to experience the island's flora. It is a fragrant haven of exotic subtropical plants, flowers, and trees. Highlights of this 36-acre paradise include the palm garden with native palmetto trees, the subtropical fruit garden, a garden for the visually-impaired which features scented plants, a ficus collection, and a flowering hibiscus garden. There are greenhouses with orchids, bromeliads, a miniature forest, an aviary, and a variety of flowering houseplants. The white house on the grounds of the Botanical Gardens is Camden, the official residence of Bermuda's Premier, open for tours except when official functions are scheduled.
Address:
Point Finger Road Pharmacy, 16 Point Finger Rd, DV 04, Bermuda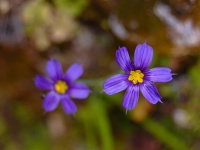 Bermudiana flower Sam Fraser-Smith
Harrington Sound
Harrington Sound is a large inland sea five miles (8km) northeast of Hamilton. Its calm waters provide perfect sailing territory. The Sound is linked to the ocean by the narrow Flatts Inlet where changes to the tide are magnified and waters rush beneath a bridge connecting the two sides. On the north side of the inlet, opposite Flatts Village, is the Bermuda Aquarium where visitors can enjoy more than 100 species of indigenous Bermuda fish in ocean and reef environments. Located within the same complex is the Natural History Museum and zoo that features animals from the Caribbean, Australia, Asia, Madagascar and the Galapagos.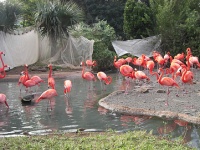 Flamingos at the Bermuda Aquarium Robyn2175
Crystal Caves
The stretch of land between Harrington Sound and Castle Harbour is riddled with caves. Located 80 feet (24m) underground, Crystal Caves never ceases to amaze with its dramatic stalactites and stalagmites. There is a wonderful walk over the pontoon bridge to Cahow Lake, with crystal-clear water that reaches a depth of 55 feet (17m). Visitors can also enjoy a leisurely stroll through the Palm Garden. A little further on are the Leamington Caves with their incredible crystal formations and underground pools that can be explored along well-marked paths. More caves are located on the grounds of the 300-year-old Walsingham House, now a well-known restaurant.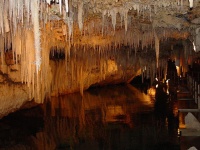 Harrington Sound's Crystal Caves Captain-tucker
Kings Square
Many attractions are located around King's Square where a beautiful 18th century town hall overlooks the old pillory and stocks. The hall is no longer in use but does provide great photo opportunities. Located close by is the dunking stool where gossips and petty offenders were forced to endure the humiliation of being dunked in the harbour. A few minutes walk from here is the Old State House, Bermuda's first all-stone structure and oldest building, dating to 1620. Originally known as Sessions House, it was the first permanent home of the colonial assembly, which until then, had held their debates in St Peter's Church.
Address:
Downtown, St George.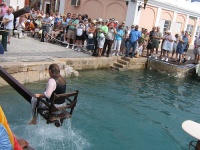 The dunking woofiegrrl
St Peters Church
St Peter's Church is one of Bermuda's most cherished landmarks, and the oldest Anglican Church outside Britain. The original wooden structure was built in 1612 and its roof is thatched with palmetto. Among St Peter's many treasures are a mahogany altar, the St George's chalice that was presented in 1625, a Bible from 1594, Charles I silver, open cedar timber beams, beautiful chandeliers, and marble memorials to some of the Island's earliest governors. St Peter's served as the only public meeting place in Bermuda until the State House was built. The churchyard is also well worth walking around in, with tombstones telling stories of epidemics, shipwrecks and war.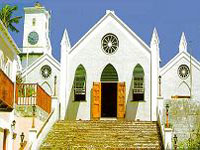 St Peter's Church, St George's Town Bermuda.Com Ltd
Fort St Catherine
On the northern tip of St George's Island is Fort St Catherine, overlooking the beach where Sir George Somers and his shipwrecked crew came ashore in 1609. Bermuda's first governor, Richard Moore, who was a carpenter by trade, built a wooden fort on this site several years later. Today it is a massive fortification complete with a moat, drawbridge, ramparts and a maze of tunnels. Fort St Catherine is now used as a museum containing period weapons, colourful dioramas, a wax figure of Queen Elizabeth II, and replicas of Britain's crown jewels. An audiovisual presentation focuses on the many forts located around Bermuda.
Address:
Retreat Hill Road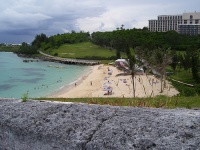 Fort St Catherine beach reivax
Somerset Island
The world's smallest drawbridge links Somerset Island to Bermuda's main island. The section that flips up is only two feet (60cm) across, just wide enough to allow a sailboat mast through. At the centre of the island set in nine hectares (22 acres) of parkland is Fort Scaur. It was built during the American War of Independence to protect the Naval Dockyard and is now a great picnic spot with good views of the island. Somerset Long Bay, with its 600 feet (183m) of brilliant-white sand is the largest and best of the island's west side beaches.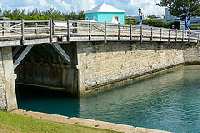 Somerset Bridge Jeremy T. Hetzel
Beaches
Whether sunbathing, swimming, or entertaining the kids, there is a beach in Bermuda for all-comers. The sweeping half-moon of Horseshoe Bay is recognised as one of the world's finest beaches. Wawrick Long Bay, on the east fringe of South Shore Park coastal reserve, is a wonderful stretch of pink and white coral sands, great for snorkeling. West Whale Bay welcomes Humpback Whales in April and rewards visitors with spectacular sunsets. There are summer bonfire and music nights on Tobacco Bay Beach, also a haven for marine life. Church Bay and Clarence Cove both offer safe swimming and snorkeling year round, while those seeking a bit of peace and quiet can head to the tiny but stunning Jobson's Cove.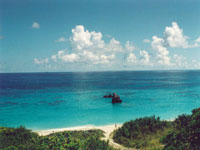 Warwick Long Bay James G. Howes
Spittal Pond Nature Reserve
Bermuda's largest and most accessible nature reserve offers excellent trails and the island's finest bird watching. The reserve attracts scores of migratory shorebirds and waterfowl, with the greatest variety to be found during spring and autumn. Of the two dozen shorebird species that feed at the edge of the brackish Spittal Pond, the Lesser Yellowlegs are the most abundant. Egrets and Herons are frequent visitors as well. Visitors can also walk along a scenic mile-long nature trail that runs through the reserve along the shoreline and through woods and farmland.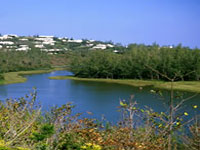 Spittal Pond
Kings Wharf
A former Royal Naval Dockyard turned holiday resort, King's Wharf is a favourite port of call for cruise liners visiting Bermuda. The old Georgian maritime fort has been re-invented into a playground for the thousands of cruise passengers who come ashore. The old buildings of the dockyard, constructed by convicts from prison ships and once known as the 'Gibraltar of the West', have been cleverly adapted to suit the new resort role, now housing cinemas, craft markets and malls. Local tour operators also offer a vast range of activities to amuse and amaze the thousands of holiday visitors that flock into the Dockyard every week.
Address:
North Arm, Royal Naval Dockyard.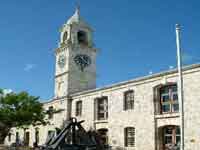 Royal Navy Dockyard Clocktower KLOTZ
Bermuda Aquarium and Zoo
Situated in the picturesque Flatts Village, the Bermuda Aquarium, Museum and Zoo was founded in 1926 and is one of the world's oldest aquariums. The aquarium is home to over 200 species of fish, making it a fantastic place to spend the day with the kids exploring marine life and coral exhibits. The zoo is also home to more than 300 birds, reptiles, and mammals from the oceanic islands. The Natural History Museum is also located here, giving kids more than enough variety to keep them entertained.
Address:
40 North Shore Road, Flatts
Opening time:
Monday to Sunday, 9am-5pm.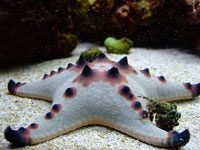 Starfish marfis75
Bermuda Maritime Museum
Displaying over 500 years of maritime history, the Bermuda Maritime Museum is a wonderful place to take the kids for a day out in Bermuda. At the museum visitors learn about Bermuda's discovery and early settlement through a collection of 16th and 17th century shipwreck artefacts recovered from local waters. Kids will love the canons and displays. The Museum is located at the western end of Bermuda at the old Keep, inside the large fort at the far end of dockyard. Ferries run regularly between Hamilton and the dockyard, and between the dockyard and St. George's.
Address:
The Keep, Maritime Ln, MA 01, Bermuda
Opening time:
Monday to Sunday, 9am-5pm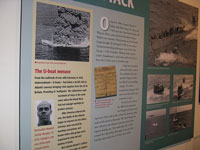 Maritime Museum Zepfanman.com
Bermuda Railway Trail
Bermuda used to have a public railway that served the island's eastern and western cities between 1931 and 1948. In 1984, the government opened the Bermuda Railway Trail as a walking trail and bridle path. A great way to spend a few hours with the kids, the trail can also be cycled, ridden on horseback, or even roller-bladed in certain areas. This 21-mile (35km) trail is a great way to see the island's natural flora and fauna and to experience some breathtaking views and do a spot of bird watching. Organised walking tours are also available.
Railway Trail albedo20
Bermuda Snorkel Park
Located at the Royal Naval Dockyard, the Bermuda Snorkel Park is a wonderful place for kids to explore the marine life that surrounds this island. There is even a beach bar and restaurant where parents can relax with a cocktail while the kids enjoy all the water sports on offer, such as jet ski tours, pedalos, kayaks and even a giant water slide. The picturesque beach provides easy access for exploring the amazing sea life, and is the perfect environment for kids and adults alike to learn how to snorkel. Calm, clear waters provide a safe environment for snorkelers of all levels.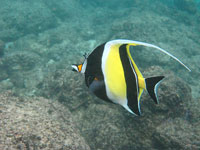 Tropical Fish djnekokittie
Bermuda weather features a very mild climate with very little cold. Temperatures average 68°F (20°C) in winter and 86°F (30°C) in mid-summer, although they have been known to soar far higher in summer when humidity can become uncomfortable. The best time to visit Bermuda is March or April, as the temperatures are moderately warm and islands are yet to see the full rush of high season.
Some facilities are limited in the winter months but room rates are much cheaper over this period. For those primarily interested in playing tennis or golf, winter is the time to come. Short but heavy showers can occur during any time of the year so it is advisable to bring suitable clothing.
L.F. Wade International Airport
Location:
The airport is located towards the north of the islands, 10 miles (16km) east of Hamilton.
Time:
GMT –4 (GMT –3 from first Sunday in April to the Saturday before the last Sunday in October).
Getting to the city:
Buses 1, 3, 10 and 11 service Hamilton and St Georges, but have no luggage storage space and cannot accommodate wheelchairs. Taxis are also available for hire at the airport.
Car Rental:
There are no car hire companies on the island.
Fascilities:
The airport terminal has ATMs and a currency exchange on the ground floor. The newly renovated shops in the check-in concourse sell a variety of goods including magazines, books, souvenirs, jewellery, perfume and clothing. Duty-free is also available. There are coffee bars/bistros, snack bars, and cocktail bars in both the US and international departure lounges.
Parking
Short-term parking costs BMD 1 per hour, up to a maximum of two hours. Long-term parking at Bermuda International Airport is charged at BMD 5 per day.
Money:
The Bermudan Dollar (BMD) is divided into 100 cents, and is tied to the US Dollar (US$1=BD$1). US currency is accepted almost everywhere and other major currencies can be exchanged at banks and bureaux de change. Banking hours vary, though most are open weekdays from 9am to 4.30pm. Visa, MasterCard and American Express are widely accepted and ATMs are easily available. Visitors are advised to exchange all their Bermudan Dollars before leaving, as it is impossible to exchange once outside the country.
Language:
English is the official language.
Electricity:
Electrical current is 110 volts, 60Hz. US flat, two-pin plugs are used. Power outages and surges are common, as a result visitors should bring surge protectors for the safety of their devices.
Entry Requirements:
United States passport holders must have a valid passport. No visa is required.
UK nationals require a valid passport. A visa is not required for stays of up to six months - period of stay will be decided by immigration officials upon arrival.
Canadian nationals require a valid passport. A visa is not required for stays of up to six months - period of stay will be decided by immigration officials upon arrival.
A valid passport is required for Australian nationals, but a visa is not required for stays of up to six months - period of stay will be decided by immigration officials upon arrival.
South African nationals require both a visa and a valid passport for entry to Bermuda. Passports should be valid for at least 45 days beyond intended period of stay.
Irish nationals must have a valid passport. A visa is not required for stays of up to six months - period of stay will be decided by immigration officials upon arrival.
United States passport holders must have a valid passport. No visa is required.
New Zealanders require a valid passport, but a visa is not necessary for stays of up to six months - period of stay will be decided by immigration officials upon arrival.
Passport/Visa Note:Visa:
All visitors must hold a return or onward ticket and any documents required for further travel, as well as a valid passport. We recommend that passports be valid for six months after arrival at destination. As part of the Western Hemisphere Travel Initiative (WHTI), all travellers travelling between the United States and Canada, Mexico, Bermuda, and the Caribbean region are required to present a passport or other valid travel document to enter or re-enter the United States. If departing from the USA, a valid passport will be required by immigration authorities. Visa requirements vary according to country.
Travel Health:
There are no specific health risks for visitors to Bermuda and medical care is of a high standard. Health insurance is recommended, as medical treatment is expensive. Food and water are considered safe for consumption.
Tipping:
If not included in the bill, a 15 percent tip is generally expected at restaurants and hotels. Taxi drivers are usually tipped 10 percent, and all Bermuda hotels add a hotel tax of 10 percent to the bill at check-out.
Safety Information:
Bermuda is relatively crime-free but visitors should exercise the necessary precautions to safeguard personal possessions. Care should be taken after dark, avoiding quieter, poorly lit streets in particular. Hurricane season normally runs from June to November.
Local Customs:
As a general rule, dress conservatively. Bathing suits are acceptable only on the beach, and it is considered an offence to appear in public without a shirt. Casual sportswear can be worn in restaurants during the day, but in the evening men should dress more formally with slacks and a shirt. Good manners are expected, and asking a question without first offering a proper greeting is considered extremely rude. Nude or semi-nude bathing is not permitted in Bermuda.
Business:
Bermuda's economy is dominated by tourism and international financial services. Business etiquette is conservative, and businessmen and women should stick to formal dress or lightweight suits. For meetings, punctuality is important, people are greeted with handshakes, and business cards are exchanged. Business hours are generally 9am to 5pm Monday to Friday.
Communications:
The international access code for Bermuda is +1, in common with the US, Canada and most of the Caribbean, followed by 441. The outgoing code is 011 followed by the relevant country code (e.g. 01144 for the United Kingdom); no outgoing code is needed to call the US. Mobile phones operate on a GSM 1900 network. Free wifi is widely available in restaurants, pubs and other tourist areas.
Duty Free:
Travellers to Bermuda over 18 years do not have to pay duty on 200 cigarettes, 50 cigars and 500g tobacco; and 1 litre liquor and 1 litre wine. However, duties may have to be paid on perfume and certain gifts. Spearguns are prohibited.