Grand Place (Central Square)
The Grand Place is the heart of Brussels and has been since the Middle Ages. One of Europe's more beautiful squares, it lies in the centre of a maze of small cobbled streets and is surrounded by richly decorated 17th century Baroque Guildhouses, various Neo-Gothic buildings, and museums.
It is, however, the town hall, a magnificent Gothic building that dominates the square. Markets, flower stalls, and various events are held here and this is the place to get to grips with the essence of Brussels, perhaps over a local delicacy at a pavement café.
Transport:
Catch the Metro to get to the Grand Place. Metro stop: Centrale, Bourse (pre-metro) or De Broukere.
Opening time:
Daily 9am-8pm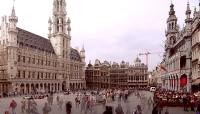 Grand Place Mats Halldin
Manneken-Pis
The distinctive statue has been described as the Eiffel Tower of Brussels and tourists throng the streets in search of the tiny urinating urchin. The bronze mannequin is thought to represent the irreverent spirit of Brussels but there are numerous tales about its beginnings.
Started by Louis XV of France many years ago, it has been the custom of foreign countries, companies, visiting dignitaries, or charities to donate an outfit to the Manneken-Pis and the little boy is usually decked out in the latest costume. Previous costumes are displayed in the City of Brussels Museum.
As the cheeky fountain is one of the most popular attractions in Brussels, visitors can expect large crowds at most times of day, especially in tourist season.
Address:
Rue de l'Etuve 31, located two blocks behind the Town Hall at Grand Place
Transport:
Catch the Metro to get to the Grand Place. Metro stop: Centrale, Bourse (pre-metro) or De Broukere.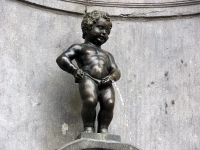 Manneken-Pis Pbrundel
Hotel de Ville
Brussels' town hall is rated as one of the most splendid civic building in Europe. The foundations were laid in 1402 and it survived the bombing during World War II when most of the other buildings on the Grand Place were destroyed.
The façade is embellished with gargoyles and images of nobility while the intricate 100 metre-high tower is resolved by a fine statue of St Michel, patron saint of Brussels. Guided tours are available for a small fee - well worth it to see the fine tapestries and miscellaneous works of art inside.
Address:
Grand Place, 1000 Bruxelles
Transport:
Catch the Metro to get to the Grand Place. Metro stop: Centrale, Bourse (pre-metro) or De Broukere.
Opening time:
Tuesday 10am-5pm, Wednesday 10am-12pm, Thursday 2pm-5pm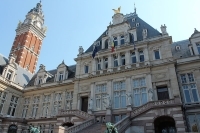 Hotel de Ville M0tty
Galeries Royales Saint Hubert
Mall lovers everywhere should make a pilgrimage to the Galeries Royales Saint Hubert, the very first shopping arcade in Europe. Opened in 1847, the arcade became a drawcard for the elite of 19th century society and today continues to inspire shoppers and browsers alike. People from across the globe, young and old, enjoy perusing here and everyone will find something to their taste.
The building is an architectural marvel: arcaded shop fronts across two floors are separated by pilasters, conceived in a Cinquecento style. The roof above is made of arched glass panes, connected by a delicate cast-iron framework. In between the various shops you'll find cafes, restaurants, a theatre, and even a cinema. With so much to see and do here, this attraction is family friendly and one the kids will enjoy too.
Address:
Galerie du Roi 5, 1000 Bruxelles
Opening time:
Varied times depending on stores. Check website for details.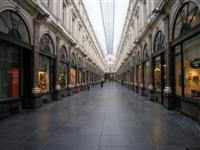 Galeries Royales Saint Hubert Audriusa
Palais Royal
Belgium's magnificent Royal Palace was built in the 19th century as the official residence of the Belgian Royal family although today is used for official functions and other ceremonial purposes. The palace is positioned in front of Brussels Park, itself well worth exploring, and directly opposite the modern Parliament building as if symbolically representing the country's system of government, a constitutional monarchy. Tours are only possible in summer and commence after the National Holiday on 21 July. Inside are a multitude of historical artefacts and some impressive contemporary art, commissioned by the queen in 2002.
Address:
Rue Brederode 16, B-1000 Bruxelles
Opening time:
Open Tuesday to Sunday, 22 July to 4 September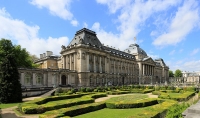 The Royal Palace of Brussels Martin Falbisoner
Royal Museums of Fine Arts
An unmissable attraction for art lovers: the Royal Museums of Fine Art are Brussels' premier art museums. Consisting of the Musée Old Masters Museum, Musée Modern Museum, Musée Wiertz Museum, Musée Meunier Museum, Musée Magritte Museum, and the new Musée Fin-de-Siècle Museum.
The largest is the Old Masters Museum, opened in 1887, featuring the best collection of Flemish art in the world; highlights include works by Van Dyck and over 20 paintings by Rubens. The Museum of Modern Art was opened in 1984 and includes fine examples from Belgium's best artists over the past century, plus modern legends such as Francis Bacon.
The Magritte Museum is devoted to works of famous Belgian Surrealist René Magritte, and houses more than 200 of his works; while the new Musée Fin-de-Siècle Museum is dedicated to the 1900s when Brussels was the capital of Art Nouveau.
Address:
Rue de la Régence 3
Transport:
Public bus services 27, 29, 38, 71, 95
Opening time:
Weekdays 10am-5pm, Weekends 11am-6pm. Closed on Mondays.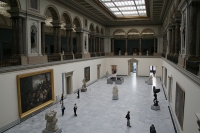 Royal Museums of Fine Arts Szilas
Belgian Centre of Comic Strip Art
Belgium's love of wacky humour and comic book art come together in this wonderful museum housed in a fabulous Art Nouveau building designed by Victor Horta. Permanent exhibitions detail the history of European comic strips, while ever-changing temporary exhibitions focus on specific artists, time periods, and political contexts.
Visitors can see plenty of its most famous subject, Hergé's Tintin, as well as the Smurfs and art from over 670 cartoonists. This is a temple to cartooning, now considered an art form worthy of serious consideration, and so the museum aims to trace the history and development of the discipline rather than to entertain. Guided tours are available for larger groups.
Address:
Rue des Sables 20
Opening time:
Tuesday to Thursday 10am-5pm, Friday to Saturday 10am-6pm, Sunday 12pm-6pm.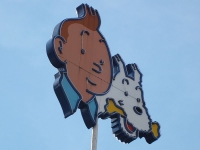 Tintin and his dog Snowy Belamp
Royal Museum of Central Africa
Under the direction of King Leopold, the Belgian Congo returned fantastic riches to Belgium in the 19th century. Yet the people of that colony paid a terrible price. This museum was founded to explore the relationship between European colonial powers and the people they subjugated.
Recent exhibits have broadened the museum's focus to include environmental issues and ethnography in Africa, Asia, and South America. The museum is situated on beautiful grounds in the Flemish commune of Tervuren, just outside of Brussels.
Address:
Leuvensesteenweg 1302
Opening time:
Tuesday to Friday from 10am to 5pm; Saturday and Sunday from 10am to 6pm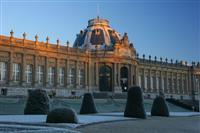 Royal Museum of Central Africa
Brussels is a great city for kids of all ages to enjoy.
Take the children for a stroll through the streets of the city, and don't forget to stop and check out with Mannekin-Pis, which the kids will have a good chuckle at. A highlight for lovers of cartoons is a visit to the Belgian Centre of Comic Strip Art, featuring displays of favourites such as Tintin and the Smurfs - a real treat for children. During the summer months, a trip to one of Brussels' water parks is a must, such as Walibi Belgium where dozens of slides and rides can be enjoyed. A trip to Bruparck is not to be forgotten either, where attractions such as the Oceadium water park, Mini Europe and the Atomium can be seen and families are guaranteed a fun-filled day.
When the weather is miserable and taking the children outdoors isn't an option, head to one of Brussels' fabulous museums, such as the Brussels Children's Museum for the little ones, or the Museum of Natural Sciences of Belgium for slightly older children where the dinosaur exhibit is sure to thrill! Children will also enjoy a play or film at the Galeries Royales Saint Hubert, which means that should the weather be dreary, children will still be entertained.
Brussels has a maritime temperate climate, characterised by warm summers and mild winters. The city has a high average annual rainfall, and visitors can expect a downpour any time of year. Temperatures range from highs of around 73°F (23°C) in summer (June to August) to 34°F (1°C) during winter (December to February). Snow is possible, but not frequent, in winter.
Dining is serious business in Belgium where both the French and Flemish consider themselves qualified food critiques. Besides enjoying the national dish, beer, which in Belgium is thick enough to qualify as a full meal, eating out in Brussels leaves both food snobs licking their lips and the hungry patting their bellies. For quick eats, embrace street side cafés where Belgium waffles (not only in the morning), chocolate, French fries and beer all make great snacks. The fine dining usually revolves around French cuisine but not to be missed is the Flemish stew waterzooï, which translated to 'watery mess' is better than it sounds, and mussels with chips. Brussels restaurants are generously sprinkled about the city's districts but several fine dining clusters are close to de Broukére or many options surrounding the Grand Place. A service charge is included in the bill but great service is often rewarded.
Bonsoir Clara
Located in the fashion district of Brussels, this trendy restaurant offers diners a selection of both traditional and international cuisine. The menu features a variety of Belgian, Italian, and Asian dishes including cold pea soup, fish lasagne, roast lamb, and cod carpaccio. Open Monday to Friday for lunch and dinner, and for dinner on weekends. Reservations recommended.
Address:
22 Rue Antoine Dansaert
La Maison du Cygne
Once frequented by the likes of Karl Marx and the Belgian Socialist Party, this 17th century house now offers diners a traditional ambience, enhanced by richly coloured décor and polished walnut walls. Their cellars include a collection of some 20,000 bottles of some of the finest vintages.
The menu features mainly Belgian and French cuisine, including lobster salad with apples and a curry sauce, beef fillet with a three pepper sauce, and lemon-scented codfish. Open Monday to Friday for lunch and dinner, and for dinner on Saturday. Reservations recommended.
Address:
2 Rue Charles Buls
Aux Armes De Bruxelles
Founded in 1921, this is a true Brussels legend that serves the freshest of mussels and finest of French fries. Approach the moules et frite Bruxelles-style by eating the first mussel with your fingers and then use the shell to eat the rest.
The entire menu is excellent, especially the beef stewed in beer and the delicious waterzooï. The front room's vintage Art Nouveau interior is delightful. Open for lunch and dinner daily, reservations recommended.
Address:
13 Rue des Bouchers
Comme Chez Soi
This gourmet pilgrimage site never fails to impress, with exceptional quality, refined flavours, and an ambient Art Nouveau design. The restaurant boasts both a warmly welcoming atmosphere and truly memorable dishes, such as red mullet fillet with karides or beef fillet with black truffles. For dessert, try the chocolate cake with almonds and hazelnuts. Advanced booking is essential. Closed on Sunday and Monday, and on Wednesday for lunch.
La Truffe Noire
For those with a passion for truffles, pay a visit to this shrine created by Italian chef Luigi Ciciriello. It is a friendly establishment renowned for serving superb truffle-focused dishes in its warm and relaxed environment.
Don't miss the carpaccio truffles with olive oil and parmesan for starters and the roast duck with Canary Island bananas for mains. Open Tuesday to Saturday for lunch and dinner, only open Monday and Sunday for reservations of 30 or more guests.
Address:
12 Boulevard de la Cambre
La Quincaillerie
Housed in a former hardware store, La Quincaillerie has all the raw materials for a fabulous dining experience. The staff are friendly if slightly frenetic. The interior's Horta-inspired industrial qualities are striking and the food is quite simply fantastic, especially the impeccably fresh seafood. Open for dinner all week and lunch Monday to Friday. Bookings essential well in advance.
Les Brassins
Belgian brasseries are scattered throughout Brussels so it's hard to tell which are truly outstanding and worth seeking out. But there are consistently good reports about this local secret, tucked away at the end of a back street in Ixelles.
Enjoy tasting some of the 50 local brews while tucking into hearty dishes like rabbit cooked in cherry beer, or the meatloaf with mustard sauce. Open daily for lunch and dinner, reservations recommended.
Address:
36 Rue Keyenveld
Chez Leon
Don't be put off by the picture menu and touristy look, this is the real deal. For celebrated mussel dishes, as well as local fare such as rabbit stewed in kriek (cherry) beer or stoemp (bubble and squeak), the original Chez Leon is the perfect place to dine. Found near the Grand Place, it is open daily for lunch and dinner, reservations recommended.
Address:
18 Rue des Bouchers
La Porteuse d Eau
La Porteuse d'Eau is a beautiful art deco restaurant that not only stuns with amazing decor but keeps locals coming back for more with classic Belgian cuisine and selection of over 70 Belgian beers. This wonderful brasserie in Brussels operates from 11am until 3pm and 6 until 10.30 pm from Tuesday through Thursday. On Friday and Saturday, it's open from 11am until 11.30pm, while on Sunday it closes at 10.30pm.
Address:
48a avenue Jean Volders
Brussels International Airport
Location:
The airport is located eight miles (12km) northeast of the city centre.
Time:
GMT +1 (GMT +2 from April to October).
Getting to the city:
The train station is located on the basement level that connects to Brussels and other major national and international destinations. A bus station is below the arrivals hall, and there are several lines that connect to different places in the city. There are also buses that serve Brussels Airport to Antwerp. An airport bus link also operates between the Brussels railway lines and the airport. There are licensed, metered taxis available outside the Arrivals hall.
Car Rental:
Major car hire companies are represented at the airport, including Avis, Budget, Thrifty, Sixt, Europecar, Enterprise, and Hertz; their desks are in the arrivals hall.
Airport Taxis:
From Brussels International Airport metered taxis are available outside the Arrivals hall. Licensed Taxis are recommended and can be recognized by a blue and yellow sign.
Fascilities:
Airport facilities include ATMs and bureaux de change, duty-free shops, cafés/restaurants, a beauty shop, religious services, train information and reservation, car rental offices, a travel agency, and luggage lockers.
Parking
The Fast Zone Parking Lot is immediately across from the terminal building. Prices here begin at €5 for thirty minutes. The short-term P1 and P2 Lots charge €4 per hour, with prices increasing thereafter. The Economy Lot is good for long-term parking (up to a week), costing €20 per day.
Brussels South Charleroi Airport
Location:
Brussels South Charleroi Airport is 28.5 miles (46km) from the city.
Time:
GMT +1 (GMT +2 from March to October).
Getting to the city:
There is access to Brussels from Charleroi Brussels South airport by car, train, taxi, or shuttle coach. The highway network connects the airport to northern France and the Netherlands.
Car Rental:
Rental companies include Avis, Europcar, Sixt, and Hertz.
Airport Taxis:
Taxis are always available outside the passenger terminal and may offer a fixed price to certain destinations. The city is about an hour drive from the airport. Taxi companies include Sympatax, Rapid Tax, Ideal Tax, Taxis Carolo, and Taxi Europe.
Fascilities:
There is a tourist help desk in the arrivals terminal. Other facilities include shops, bars and restaurants, first aid and baby/parent rooms, travel agent stands, free wifi throughout the terminal, a VIP lounge, and a well-equipped business centre. There is a bank, a bureaux de change, and several ATMs. Facilities for the disabled are also good.
Parking
There are a few parking options at Charleroi Airport, encompassing express, locked, long-term, and short-term arrangements. P1 has a daily limit of €14.29, while the locked lot has a daily limit of €17.14.
Like a jazz rhythm that defines so much of the city's music, Brussels' nightlife is impromptu, at times schizophrenic, alternately relaxing and cool or hot and fast. Although there are a host of choices for eclectic nightlife, the city after dark is often outshone by brighter and more vibrant European cities. Most Brussels locals anchor the afternoon to the night with a pint or two of their world famous beer. This is best done in one of the many Old World-style pubs or cafés littered about the city, such as in Place Brouckere. These are more after work meeting places, popular with all ages, than party destinations. A mellow evening can continue with jazz concerts in the many jazz clubs, or with theatre and dance shows. An edgier side of Brussels herds late night bar and club goers into eccentric themed venues. Rue du Marché au Charbon is a lively strip of bright bars. Upper-town clubs tend to be more trendy and expensive than lower-town, where a more casual clientèle dances the night away to electronic beats. Renowned DJ's frequent Brussels' clubs and a regular line-up of heavyweight bands play at the city's concert venues.
The modern and well-organised public transport system of Brussels consists of metro, tram and bus networks. The system is user-friendly with route diagrams and timetables posted at most stops, and there are free maps available from the tourist office. Trams provide an ideal way to get around and are faster than buses, especially when they travel underground in the city centre to become the prémétro. Both tram and bus stops are by request only. There is a separate system of local trains linking the inner city to the outskirts, although they are of minimal use to tourists, except for getting to and from the airport. Tickets are valid for any form of public transport except local trains, and once validated can be used for multiple transfers within an hour. Taxis can be hailed from any of the taxi stands around the city; they are metered and expensive, and taxes and tips are included in the price. The city is relatively easy to negotiate by car, though renting a vehicle is generally unnecessary.
Brussels is packed tight with historic buildings, monuments and museums making a nearly impossibly long list of worthwhile attractions. The best way to sightsee in Brussels is to pick several personal niche interests and follow a tourist map accordingly. Comic book fans? - there is a museum for you; chocolate connoisseur (who isn't)? - another for you. In fact, there are roughly 75 great museums in Brussels alternating between explaining Belgium's long history, showcasing its art and architecture, and just plain fun (more often than not, doing all three at once). Of course, several city landmarks cannot be missed, the most important is a visit to Manneken-Pis, which when read carefully accurately describes the statue of a boy peeing. After that rather weird tradition, visitors are free to roam Brussels' larger highlights mostly walkable from the heart of Brussels, the Grand Place. The ancient Hotel de Ville is Brussels best example of early architecture and is almost as grand a sight as the Royal Palace. Several of the best museums in the world include the Museum of Ancient Art and the Museum of Modern Art, both housing Brussels best art treasures. For the rest, much like the Belgians, relax, enjoy and take it all in between pints of the city's best attraction, Belgium beer.