There is plenty to see and do in Bahrain, a countrywhich has a rich history dating back 5000 years from the ancientDilmun period through the Islamic era. The country offers manybeautiful and ancient forts which have been meticulously restoredand opened to the public.
A lack of signs and general promotion by thecountry's tourist industry sometimes makes finding these sitesdifficult. Among these is the Bahrain Fort, located roughly twomiles (4km) from Manama along the coast of Bahrain, and being oneof the largest and most historically significant forts in thecountry, it has been listed as a World Heritage Site.
For something different, why not visit the Jebel AlDukhan hill, the highest point in Bahrain, named the 'Mountain ofSmoke' because of the haze which surrounds it on hot days, to trulyexperience the beautiful and surreal landscapes of the desert.
And while you are in the area, one must surely make adetour to the mysterious Tree of Life, an ancient tree of roughly400 years standing alone in the desert. These true spectacles ofnature, along with the rich culture and history of Bahrain make thenation an intriguing place to visit, with plenty of attractions tokeep you busy on your trip to this desert nation.
Lost Paradise of Dilmun Water Park
On a swelteringly hot day, the perfect activity forboth children and adults in Bahrain is a trip to the Lost Paradiseof Dilmun. The biggest waterpark in the Middle East, The LostParadise of Dilmun has a number of water rides and attractionscatering for all ages, ranging from lazy rivers to high-speedwaterslides, man-made waves to the interactive Dancing Fountain.The park was designed to resemble Dilmun, an ancient kingdom inBahrain that was said to contain the Garden of Eden. Guests canalso relax by the pool in private cabanas. The park also hasrestaurants and souvenir shops. Though expensive by local standardsand far from Manama (a 45-minute drive from downtown), the LostParadise of Dilmun is a great family excursion in Bahrain. Visitorsshould note that the park is only open during the summer. Childrenunder 12 must be accompanied by an adult.
Address:
Building 1663, Road 6227, Block 1062 Hawrat Ingah,Manama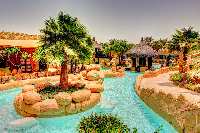 Bahrain water park HDR Frans Zwart
Bahrain Fort
Located roughly two miles (4km) from Manama along the coast ofBahrain, the archaeological site of Bahrain Fort (Qal'atal-Bahrain) is one of the largest in the country and has beenlisted as a World Heritage Site. As the capital of the ancientSilmun Civilization, this site represents Bahrain's role as acentre for commerce and cultural exchange. Excavations haverevealed the ruins of six cities near the fort, dating as far backas 3000 BC, however only 25 percent of the site has been uncovered.Visitors can see the remains of several necropolises along withcity walls, and many copper and ivory artefacts and examples ofBarbar pottery. There is also a visitors centre, with displays ofancient life. Tourists can easily dedicate an entire afternoon tothe site, which also has a cafe. Be aware that bottles of water aremuch cheaper at nearby shops, which do not charge touristprices.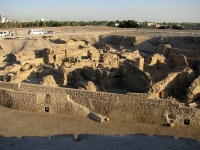 Qal'at al-Bahrain Peter Dowley
Manama Souk
To experience the true flavours, scents and colours of Manama, avisit to the souks (local markets) are a must. Here, visitors canexperience and purchase everything this beautiful country has tooffer, from a variety of cloths in different colours and texturesto jewellery and local crafts. The best buys include exquisitePersian rugs and natural pearls. The fresh fruit and vegetables,herbs, spices, and nuts available here are also outstanding, thoughless ideal as souvenirs. The souk is divided into several sections,including the Fareeq el-Hammam and Fareeq el-Hatab, which are hometo several famous Matams. Most shops are open from 9am to 1pm andfrom 4pm to 9pm, and are closed during the day on Fridays. Toutsare known for their aggressiveness, and visitors should be preparedto haggle for the best price.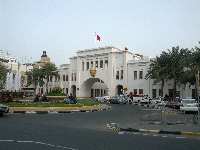 Bab Al Bahrain Shubrat
Manama experiences extreme climatic conditions, with summertemperatures in July rising to 113°F (45°C) and winter temperaturesin January as low as 45°F (7°C). The most pleasant time to visitManama is in autumn (October and November) when warm temperaturesare tempered by a soft breeze. Manama has an arid climate withlittle rainfall.
Bahrain weather is generally warm and fairly dry. The mostpleasant time of year in Bahrain is during spring or autumn whensunshine is virtually guaranteed, along with warm temperaturestempered by soft breezes. Summers can be very hot and humid, thoughthe humidity is modified at the end of the season when a drynorthwesterly wind blows, known locally as the 'Al Barah'. Winteris cooler and influenced by low-pressure systems, which bringrainfall. Average rainfall is low, but most of it falls inwinter.
Bahrain International Airport
Location:
The airport is about four miles (7km) north of thecapital, Manama, on Muharraq Island.
Getting to the city:
Many hotels operate courtesy buses for their guests to and fromthe airport. Taxis operate at the airport.
Car Rental:
Budget, Europcar, Hanco, Hertz, Oscar, Avis, Gulf, Sixt, AlKobaisi, and other companies operate from Bahrain Airport.
Airport Taxis:
There are taxis outside the terminal, but they tend toovercharge foreigners. It is better to phone for a metered taxiservice. It is about a 15-minute drive to Manama.
Fascilities:
Facilities include banks and currency exchange services,restaurants, cafes and bars, gift shops, a post office,communications centre, tourist information, and a prayer room. TheBahrain Duty Free shopping complex is internationally acclaimed.Disabled facilities are good.
Parking
Short and long-term parking facilities are available in front ofthe terminal. The cashier counters are available at the exits andthey are open 24 hours. A free shuttle bus service operates betweenthe terminal and the long-term car parks.
Money:
The official currency is the Bahraini dinar (BHD). The Bahrainidinar is linked to the US Dollar at a rate of US$1=BD 0.376. Moneycan be exchanged at bureaux de change, commercial banks in Manamaor at money changers operating in souks. ATMs are available inlarger towns. Credit cards are widely accepted.
Language:
Arabic is the official language in Bahrain, althoughEnglish is widely understood and is used by mostbusinesses.
Electricity:
Electrical current in Bahrain is 230 volts, 50Hz.UK-style three-pin plugs are used.
Entry Requirements:
US citizens require a valid passport and a visa (or electronicvisa) to enter Bahrain. Single entry Electronic Visas may beobtained online before travel, or a one-month tourist or businessvisa can be obtained on arrival, with the option to extend this bytwo weeks.
British citizens require a valid passport and an eVisa,obtainable online prior to their visit, or a three-month visaobtainable on arrival. British passport holders with endorsementsother than 'British Citizen' should confirm official requirementsbefore travel.
Canadian citizens require a valid passport and an eVisa,obtainable online prior to their visit, or a one-month tourist orbusiness visa obtainable on arrival. A two-week extension ispossible.
Australians need a valid passport and a visa, obtainable online(www.evisa.gov.bh) prior to their visit, or a one-month tourist orbusiness visa obtainable on arrival. A two-week extension ispossible.
South Africans need a visa and a valid passport to visitBahrain. Visas are obtainable online prior to travel.
Irish nationals need a valid passport and an eVisa, obtainableonline prior to their visit, or a three-month tourist or businessvisa obtainable on arrival.
US citizens require a valid passport and a visa (or electronicvisa) to enter Bahrain. Single entry Electronic Visas may beobtained online before travel, or a one-month tourist or businessvisa can be obtained on arrival, with the option to extend this bytwo weeks.
New Zealanders require a valid passport and an eVisa, obtainableonline prior to their visit, or a one-month tourist or businessvisa obtainable on arrival. A two-week extension is possible.
Passport/Visa Note:Visa:
All persons who wish to enter Bahrain need a visa, exceptcitizens of the Gulf Cooperation Council (Kuwait, Oman, Qatar,Saudi Arabia, United Arab Emirates). Visas can be obtained onarrival or online at www.evisa.gov.bh. Not all nationalitiesqualify for visas on arrival. A passport valid for duration of stayis required, but it is recommended that passports be valid for atleast six months beyond intended travel. Visitors also requiretickets or documentation for return or onward travel as well asproof of sufficient funds and address of stay in Bahrain.
Travel Health:
No vaccinations are required for visitors to Bahrain, but ahepatitis A vaccination is recommended. Medical facilities are goodin the main cities, but health insurance is recommended becausevisitors must pay for treatment. There are many well-stockedpharmacies in the country. Water is deemed clean and safe by theauthorities, but visitors usually prefer to drink bottled water,which is widely available.
Tipping:
Most restaurants and hotels in Bahrain add a service charge of10 to 15 percent to their bills. However, you may leave a tip atyour discretion. Taxi drivers expect a 10 percent tip and porterswill be happy with about 100 fils per item of baggage.
Safety Information:
Although the crime rate in Bahrain is relatively low, visitorsshould be aware that along with other states in the Gulf region,the country is at risk of indiscriminate terrorist attacks by AlQaeda on Western interests. Visitors are advised to be vigilant andavoid public demonstrations. Around 10,000 British nationals livein Bahrain, and thousands more visit each year. The vast majorityof visits are trouble free.
Local Customs:
Although it is a liberal state, Bahrain is an Islamic countryand many locals find scanty clothing and immoderate publicbehaviour offensive. Visitors should dress and act respectfully.Religious and social sensitivities should be observed andrespected, especially during religious festivals. Foreigners arenot expected to fast during the holy month of Ramadan, but it isconsidered extremely inconsiderate to eat, drink, or smoke inpublic during this time. Homosexuality is illegal.
Business:
Bahrain is generally more liberal than its Arabneighbours, but businesswomen should nevertheless ensure that theywear conservative clothing and men are expected to wear smart suitsand ties. Bahrainis prefer to do business with those whom they havea personal relationship with so a letter of introduction fromsomeone they know is appreciated.
English is used as the language of business, butexpect prolonged small talk and personal enquiries before sittingdown to do business, as building a trustworthy relationship isimportant. Rushing a deal and high-pressure sales tactics arefrowned upon. Impatience has no place, so plenty of time should beallowed for decision-making.
For meetings, punctuality is important and businesscards are routinely handed out to everyone, using both hands andpreferably with the Arabic translation on the back of the card faceup. It is important to study a received card for a while beforeputting it away. Formal titles should be used.
Business hours are Sunday to Thursday 7am to 2pm.Most businesses take a break in the afternoon between 1pm and 3pm,but are open later in the evening. During the holy month of Ramadanworking hours are reduced.
Communications:
The international direct dialling code for Bahrain is +973.There are no city or area codes. As international roaming costs canbe high, purchasing a local prepaid SIM card can be a cheaperoption. Internet is available at most of the larger hotels inManama.
Duty Free:
Travellers to Bahrain over 18 years do not have to pay duty on400 cigarettes, 50 cigars and 250g tobacco (in open packets);perfume up to 237ml; 1 litre alcoholic liquor and 6 cans of beerfor non-Muslim passengers only; and gifts to the value of BD250.
There is little in the way of public transport inManama, with most residents driving their own cars to get around.While long-haul buses link the major cities in Bahrain, localtravel can be less organised and predictable for those visiting thecapital city.
Taxis are perhaps the most popular way for travellersto get around Manama. There are plenty of cabs throughout the city,so finding a vacant one should not be much of a problem. Visitorsshould insist that the official meter is used, as it is extremelycommon for drivers to try and rip tourists off with an exorbitantfixed fee. If the driver is especially reluctant to use the meter,it is often best to simply vacate the cab and find another. Thereare surcharges for night-time fares (between 10pm and 6am), andhotel or airport pickups.
Hiring a car is the only other practical way to getaround Manama, which is not considered pedestrian-friendly and hasfew sidewalks. All roads in Bahrain quite literally lead to Manama,so visitors who hire a car will also have considerable access tothe whole country. Those who plan to stay within the city, however,will occasionally have to deal with periods of congested traffic,especially during rush hour.
As the meeting place for locals and visitors and afantastic way to experience the true flavours, scents, and coloursof Manama, a visit to the souks (local markets) is a must. Here onecan purchase anything from beautiful Persian rugs to rare andprecious jewellery, all while sampling the local cuisine along theway.
If one is to venture just slightly out of the city,Bahrain's special history can be encountered in numerous old fortbuildings, dating back as far back as 3000 BC, and beautifullyrestored and preserved for visitors to admire.
And when the temperatures of the desert seemoverwhelming, water activities seem extra tempting. Luckily watersports are extremely popular in Bahrain, with tourists and localsindulging in their sport of choice all year round in the warmwaters of the Persian Gulf. Sailing and scuba diving areparticularly popular.
If you prefer to stay on land but still feel the needto cool down, you can visit the Lost Paradise of Dilmun Waterparkwith the family, allowing kids to tube and slide the day away,while cooling off from the desert climate. Whether it is in thewater or in the desert, there is plenty to choose from for thewhole family.
Al Dar Island
Al Dar Island is Bahrain's best-kept secret. AMediterranean beach resort with sparkling blue seas, it offersactivities like dolphin viewing, pearl collecting, fishing, scubadiving, boating, and other water sports. Because Bahrain's beachesare notoriously poor, Al Dar is a popular excursion for both localsand tourists in Manama and all over the country. Though small,there are several beaches on Al Dar to choose from, none of whichare overcrowded due to the strict limits regarding the number ofvisitors per day. The beaches are all clean and well-kept with goodshower and ablution facilities, plus several decent restaurants andshops. The island is also known for its beach parties and anightlife which, in Bahrain terms, is quite lively. Booking aheadis essential, as only a few tickets to Al Dar are allocated perday, and international visitors are required to present theirpassports at the Port Office before embarking on the ferry to AlDar.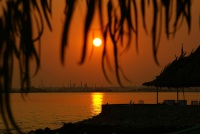 Al Dar Islands miandadr
Hawar Islands
A one-hour boat ride from Manama are the Hawar Islands, acluster of islands known for their spectacular scenery andwildlife. A UNESCO World Heritage Site, the Hawar Islands are hometo playful dolphins and bright pink flocks of flamingos, and theislands' resorts offer the chance to relax and enjoy the tranquilsurroundings while indulging in activities like jet skiing,canoeing, cycling, and paddle boats. With a small population ofaround 4,000 people, tourism is the major industry. Although theislands are geographically closer to Qatar, Hawar belongs toBahrain and makes a pleasant weekend excursion from Manama.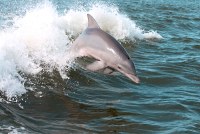 Hawar Islands The Pug Father
Jebel Al Dukhan and the Tree of Life
At 439 feet (134m) above sea level, the Jebel Al Dukhan hill isthe highest point in Bahrain. Translated from Arabic, Jebel AlDukhan means 'Mountain of Smoke', named for the haze which oftensurrounds it on humid days. There are various undetermined caves inthe area for visitors to explore. Roughly a mile (2km) away, theTree of Life stands alone in the desert, its water source acomplete mystery. The mesquite tree is said to be around 400 yearsold, and stands 32 feet (10m) high. There is nothing else nearby tosee or do. However, the mysterious tree is a popular sight fortourists in Bahrain.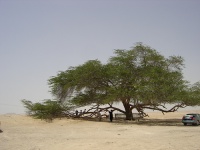 The Tree of Life, near Jebel AlDukhan solvo