The Bahamas are the quintessence of 'holiday heaven',with things to see and do reaching far beyond sunbathing on themiles of white sandy beaches, or idly frolicking in the translucentturquoise waters.
The islands offer a number of activities andattractions, with everything from Loyalist settlement ruins and theGlass Window Bridge to Christopher Columbus' first stop in the NewWorld. The Bahamas also boasts one of the largest underwater cavesystems in the world, and scuba divers can see the mysterious stoneblocks in the waters off Bimini, said to be part of the lost cityof Atlantis, or visit Long Island to explore the deepest blue holein the world.
A unique experience for tourists is the possibilityof taking a walk along the ocean floor in a rig reminiscent of thedays before scuba technology, courtesy of Hartley's Undersea Walk.Divers need no experience as they wear an undersea botanical helmetthat allows for normal breathing and dry hair. The trips give youthe time to walk slowly among the fish and the reefs without havingto swim. Half-day or full-day charters are available.
There are any number of activities for visitors whowant to do more than just lie around: cycling, tennis, cricket,horse riding, golf, and other activities are available on land,along with attractions like casinos, restaurants, spas, bars, andclubs.
Offshore, you can enjoy exhilarating pastimes likewindsurfing, snorkelling, deep sea fishing, parasailing, and scubadiving. For those with an interest in the historical or a simplelove of pirate lore, the Pirate Museum takes visitors on aninteractive tour through the heart of downtown Nassau, bringingthem back to 1716 where they will board a replica of the pirateship 'Revenge' and enter the world of bloodthirsty pirates. It is amust for all who are up for a swashbuckling good time. The museumhas a gift shop with all manner of pirate booty.
Friendly locals, as well as comfortable, sunnyweather, and a well-established tourism industry, make theseactivities and sights all the more appealing and accessible. Addnumerous resorts, restaurants, shops, and markets to the mix and itbecomes alluringly obvious why the Bahamas are the perfectbeach-holiday destination.
Bimini Islands
The Bimini group of islands in the Bahamas is 50miles (80km) east of Miami and spans an area no larger than 10square miles (26 sq km). The main island, North Bimini, is barelyseven miles long (11km) and no more than 1,200ft (366m) across atits widest point.
The islands are best known for the excellent fishingopportunities, with visitors from around the world coming here totest their skills in the hunt for tuna, sailfish, mako shark,barracuda, and, above all, blue marlin.
This was exactly the goal of the islands' most famousfishing enthusiast, Ernest Hemingway, who lived in Bimini for twoyears in the 1930s. The small hotel (and bar) where Hemingway livedburnt down tragically in 2006 after it was converted into aHemingway museum.
Almost all the action on the Bimini Islands happensin Alice Town, a laidback town on the main island of North Biminiwhere fishermen gather to swap stories. However, the town is knownto change its tune during April spring break when crowds of raucouscollege students descend on Alice Town.
Scuba divers too are lured to Bimini by mysteriousstone blocks in the waters off the island of North Bimini, known asthe Bimini Road, which islanders claim are part of the lost city ofAtlantis. The Bimini Biological Field Station, located on SouthBimini Island and commonly called the Sharl Lab, is one of theworld's top marine research and conservation centres, and is amajor contributor to our understanding of life in the ocean.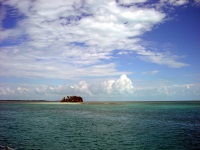 Bimini Islands, Bahamas Matt Kieffer
Berry Islands
The Berry Islands are among the least busy in theBahamas, and the perfect destination for those looking for theultimate escape. In part because of the difficulty involved ingetting to the islands and their lack of infrastructure, theresorts in this archipelago are extremely exclusive, cateringmostly to wealthy travellers, big game fishermen, and yachters. Thelargest island is the Great Harbour Cay, home to a multimilliondollar resort which once hosted the likes of Cary Grant andBrigitte Bardot.
The beaches in the Berry Islands are known as thebest shell-collecting spots in the Bahamas, while the game fishingis some of the best in the world, offering billfish, tuna, grouper,tiger fish, yellow snapper, wahoo, and king mackerel, to name afew.
Every May the islands, nicknamed the 'world'sfishbowl', play host to one of the world's top game fishingtournaments. The islands are largely privately owned, and wealthyowners use the islands as occasional holiday homes. This hasresulted in the Berry Islands having more resident millionaires perunit area than any other place in the world.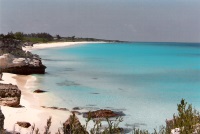 Great Harbour Cay, the Berry Islands Patrickneil
Paradise Island
Connected to New Providence Island by a bridge,Paradise Island, formerly known as Hog Island, is one of the mostpopular destinations in the Bahamas. The island used to beprivately owned until it was bought by developers in 1959 andturned into a resort haven. Since then, Paradise Island's ownershave changed several times, including a stint of ownership byDonald Trump.
It offers a variety of beaches to suit almost anytaste, while most of the island's hotels and resorts can be foundalong Cable Beach, Paradise Beach, or Cabbage Beach. The miles ofwhite sand host outstanding watersport facilities, includingswimming, snorkelling, diving, jet skiing, sailing, and more.
Perhaps Paradise Island's most famous resort isAtlantis, nicknamed 'Vegas by the Sea', where gambling mingles withwaterslides, beaches, and a host of restaurants. Thanks toexcellent weather and the popularity of its resorts, ParadiseIsland is busy year-round and the young and energetic are often tobe found at resorts' bars and parties at any time of year. Thosetravellers wanting to escape the crowds can head over to thesecluded Caves Beach or Love Beach.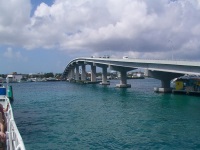 Paradise Island Bridge, Bahamas Peter Lucas
Grand Bahama Island
Approximately fifty miles (80km) from Miami, GrandBahama is an idyllic island of white beaches and aquamarine seasbeneath which vivid coral reefs teem with life. Most visitors toGrand Bahama stay in Freeport, a few miles inland, or at theseaside suburb of Lucaya on the south coast of the island.
Here you can sail, play golf or simply relax by thepool at one of the many all-inclusive resorts. In Freeport thereare plenty of boutiques and bazaars to tempt shoppers, and eveningscan be spent at one of the many restaurants. Following on fromthis, travellers with cash left in their wallets can head to one ofthe island's casinos.
Outside of Freeport, nature lovers will findthemselves in their element. Between Sweeting's Cay and PelicanPoint, are seven marine caves inviting exploration, and a littlefurther west is Deadman's Reef, accessible from the powdery whitebeach at Paradise Cove.
East of Freeport is the Lucayan National Park whichis home to the largest underwater cave system in the world and anexperience coveted by those seeking new thrills. Visitors can enjoythe island's natural flora and fauna, or hire a kayak and explorethe mangrove creeks. Owing to its beauty and variety, Grand Bahamahas become one of the most popular stops for Caribbean cruiseliners, so visitors can expect a constant coming and going oftourists on the island.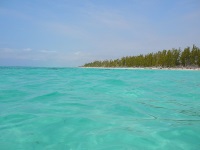 Grand Bahama Island Averette
Andros Island
Andros is the largest island in the Bahamas and is afavourite for scuba divers and fishermen. The island is largelyundeveloped, so the atmosphere is very casual and hotels tend to besmall and unpretentious. Much of the island is covered with palmsavannahs, primeval forest, and huge mangrove wetlands, which makeit a wildlife fanatic's paradise.
However, it is the underwater life that really makesAndros unique: it has the world's third largest barrier reefrunning along its east coast for 167 miles (269km). Andros' mostfamous attractions are the Blue Holes, a network of water-filledcaves, both inland and in the ocean, that draw scuba divers fromall over the world.
The colourful and unique marine life that lies belowthe tranquil surface makes Andros a fantastic spot for divers,snorkellers, and fishermen. Some of the world's firstdive-dedicated resorts are located on the island, both runningregular scientific research dives as well as purely recreationalones. Recreation is to be had on land as well, with Andros hostingseveral festivals throughout the year, including an annual regatta,a conch festival, a pirate festival, and a seafood festival.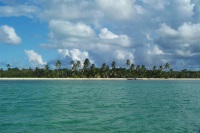 Andros Island Rs3
Exumas Islands
The Exumas Islands include a myriad of islands andcays that stretch for hundreds of miles. Although historically thehome of the Lucayan people, who were all captured and sold intoslavery in the 16th century, the islands were uninhabited forroughly a century until the arrival of British loyalists fromAmerica in the late 1700s.
Owing to the islands' long stint free from humanhabitation, they were often used as hideaways by pirates. Thelargest islands, Great Exuma and Little Exuma, are now home to asmall community of several hundred island inhabitants, who farm theland and welcome tourists.
Visitors usually arrive by yacht, as these islandsoffer legendary sailing opportunities. Even if travellers arrivewithout sails, they may be tempted into hiring a boat to make themost of the inviting waters. Most cays are edged with towering palmtrees and expanses of white, powdery beaches.
The surrounding reefs have magical, underwatergardens that draw scuba divers and snorkellers. The maindestination for divers is the Exuma Cays Land and Sea Park, a176-square-mile (456 sq km) natural underwater preserve that canonly be reached by seaplane or boat (charters can be arrangedthrough the hotels). Many of the smaller islands are owned by thelikes of Nicolas Cage, Faith Hill and Tim McGraw, and EddieMurphy.
Great Exuma, Bahamas Barbara Guida
Long Island
Long Island, often said to be the most scenic of allthe Bahamian islands, is 80 miles (129km) long and four miles (6km)across at its widest point. Like most Bahamian islands, Long Islandprovides opportunities for visitors to swim, sail, snorkel, scubadive, free dive, and engage in any number of watersports activitiesor seaside relaxations.
One of the main events on the Bahamas yachtingcalendar is the Long Island Regatta, which takes place in the townof Salt Pond each May, drawing visitors from all around the worldto one of the most beautiful and unspoilt islands in theBahamas.
The locals of Long Island still depend on fishing fortheir livelihood, while visitors revel in the shallow bays andwhite beaches of the western shore. The rugged windward coastfeatures towering cliffs washed by wild waves. There are also somerenowned offshore diving and snorkelling spots, and a spectacularview from the northern tip of the island at the site of a monumentto Christopher Columbus, who enjoyed the vista when he came ashorein 1492.
The island is home to the deepest blue hole in theworld, just north of Clarence Town, called Dean's Blue Hole. Theworld free diving record has been set in Dean's Blue Hole, and thefree diving world championship is held there.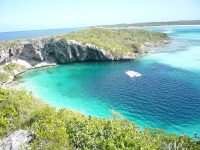 Dean's Blue Hole, Long Island Ton Engwirda
Abacos Islands
The tiny Abacos Islands cover 649 square miles (1,681sq km) and form the most northerly part of the Bahamas. Locatedonly 200 miles (322km) from Miami, they are a popular holidaydestination, and therefore fairly well developed for tourism.
The two main islands, Great Abaco and neighbouringLittle Abaco, are separated from each other by a narrow strait.They are often tagged the 'Loyalist Isles' because of the Englishsupporters who fled there to avoid persecution after the AmericanRevolution. The early Loyalist settlements can still be seen intheir well-preserved finery on Green Turtle Cay and Elbow Cay. Asfor modern settlements, visitors will find themselves in quaintcottages by the sea or in beautiful guesthouses near the marinas,as opposed to the mega-resorts seen elsewhere in the Caribbean.
The sheltered waters around the islands make it ahotspot for yachters, and Man-O-War Cay is famous for its localboatmakers. On the opposite end of the spectrum, coral reefs enticedivers and inland pine forests provide wonderful bird-watching andwalking opportunities, and it's these things that make theseislands special.
The Abacos Islands avoid the typical package-holidayrush and only draw travellers who are curious and adventurous atheart. Finally, the lighthouse in Hope Town is a good way to roundoff any trip to the Abacos Islands.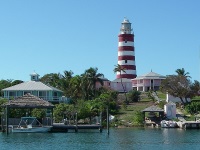 The Hopetown Lighthouse Dmadeo
Eleuthera Island
Only 14 of Bahama's Out Islands are inhabited,leaving the rest largely free from resorts, cruise ships, andcrowds. Eleuthera, which stretches for almost 100 miles (161km) butis at most two miles (3km) wide, is the most popular of the group.Eleuthera (and nearby Harbour Island, which is just a shortwater-taxi ride from the main island) has long been the holidayhaunts of the fashionable set, sporting luxury hotels and finerestaurants that cater for trendy and wealthy visitors. Some of themore famous visitors in the past have included Prince Charles andPrincess Diana, Robert de Niro, and the industrialists ArthurVining Davis, Henry J. Kaiser, and Juan Trippe.
While the island used to be home to many glitzyresorts, these were all shut down after the Bahamas' independencein 1973. Today, Eleuthera is much more relaxed and low-key. Themain entertainment here is sunbathing, swimming, snorkelling,shell-collecting, and fishing.
The scenery can be enjoyed through a meander alongthe coast, passing scenic headlands and wandering through villagesdotted between dozens of pristine beaches. Natural highlights alongthe coast include Glass Window Bridge, the Hatchet Bay Caves,Surfer's Beach, and Ocean Hole, among others.
Once the capital of the Bahamas, Eluethera's HarbourIsland is home to Dunmore Town, whose flower-lined streets andcolourful New England-style buildings are popular with tourists inthe Bahamas. Harbour Island's main attraction, though, is thespectacular pink sand beach. A product of the coloured shells thatmake up the sand, the beach takes advantage of the protection of acoral reef, offering tranquil waters and excellent swimming. Theaccommodation on Harbour Island caters mostly to wealthytravellers.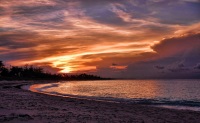 Sunset on Eleuthera Trish Hartmann
Half Moon Cay
This island is a private paradise, reserved for passengers whoare tendered ashore by cruise ships. Those who have paid for thepleasure will not be disappointed. Half Moon Cay (pronounced kee)is an island, about 100 miles (161km) south of Nassau, which hasbeen sensitively developed to preserve its natural assets andecosystem, while ensuring it provides a fantastic day ashore forcruise passengers.
The main attraction is a surreal two-mile (3km) crescent ofbeach which gives the island its name - dotted with palm trees andhome to flocks of captivating birdlife. All of the pristinefacilities at the resort on Half Moon Cay are connected by anetwork of pathways, but those who prefer can catch a tram whichruns continuously from the welcome centre to the food pavilion.
Visitors wanting to cure their 'sea legs' can take one of thepeaceful walks along marked trails with descriptive signs pointingout the local vegetation, plants and birds. Activities on offer tovisitors include swimming, snorkelling, scuba diving, jet skiing,horseback riding, volleyball, and cycling. A wide variety ofwatersport equipment is also available for hire, includingcatamarans, windsurfers, and kayaks.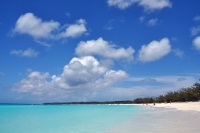 Half Moon Cay James Willamor
Aquaventure at Atlantis Paradise Island
Aquaventure, in the Atlantis resort on Paradise Island, is oneof the Caribbean's largest waterparks, featuring dozens ofthrilling water slides and a mile-long river ride with rapids andspecial effects. The 97 acre park has a network of interconnectedrides which means guests can go from one attraction to the next onrivers and water escalators without ever leaving theirinner-tubes.
Some of the rides include the Leap of Faith, a nearly vertical60 foot drop through a clear tube that runs under a shark-filledlagoon; the Abyss, a 58 foot near-vertical drop through darknessfollowed by many twists and turns; and the Surge, an inner-tuberide that mimics a flash flood. For young children, there is theJungle Slide, a simple twisting slide featuring jungle-likescenery, and the Splashers, a Mayan-themed set of pools andwater-based playgrounds. When visitors get tired of the water,there are other activities available like rock climbing, withinstructors present to guide and teach. The park is accessible toguests of the Atlantis resort as part of their resort fees, andguests of the adjacent Comfort Inn have access as well.
Aquaventure Big Blue Ocean
Dolphin Encounters
Dolphin Encounters affords visitors to Salt Cay aparticularly special experience: a chance to swim with the localbottlenose dolphins, get a kiss, or just watch from the side. Thereare also opportunities to interact with sea lions, who were broughtto the island from Louisiana after their previous home wasdestroyed by Hurricane Katrina. Dolphin Encounters is based on BlueLagoon Island (Salt Cay), roughly three miles (4.8km) northeast ofParadise Island.
To start off a visit to Dolphin Encounters, visitorsare taken on a 20-minute ride on a catamaran from Paradise Islandto Blue Lagoon Island, and while on the catamaran visitors aregiven the chance to see the dolphins' natural habitat.
Once visitors arrive on the island, they are taken tothe Dolphin Encounters centre where it's possible to meet with oneor more of the centre's dolphins or sea lions. The centre makesprovision for those who are nervous swimmers, and even those whocan't swim at all, by providing platforms for visitors inside thedolphins' pools. In addition to visitors' encounters with dolphins,there are also dolphin shows where the dolphins are given thechance to show off their tricks. Dolphin Encounters is happy tohost groups and birthday parties.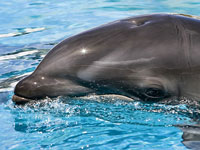 Bottlenose dolphin Mark Interrante
Mayaguana Island
As one of the most isolated islands in the Bahamas,Mayaguana is also among the least developed (relying on a weeklymail boat for outside communication) and least visited by tourists.With modern amenities few and far between, the island appeals toadventure travellers looking to experience the pristine wildlife ofthe area, including iguanas and bright pink flocks offlamingos.
Scuba diving in Mayaguana is world-class, especiallyin Abraham's Bay, and bonefishing is another popular activity. Somego to Mayaguana for duck hunting season, while others may visit forthe challenging mountain biking routes on Mayaguana.
The Bahamanian government has recently entered intoan agreement with the American government to turn Mayaguana into afree trade zone, developing 14 percent of the island - almost allof its coastal areas - into resorts and tourist destinations, whiletrying to maintain the island's status as an eco-tourism drawcard.However, none of the development has begun and the island remainsas authentically isolated as ever.
As a result, it's important to be prepared before youvisit Mayaguana as there are no ATMs or banks, and credit cards arenot widely accepted. Accommodation and dining options are alsolimited and often quite basic.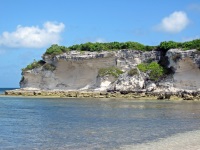 Mayaguana Island, Bahamas James St John
Money:
The official currency is the Bahamian Dollar (BSD), which isdivided into 100 cents. The Bahamian Dollar is equal in value tothe US Dollar and both currencies are accepted throughout theislands. Currency can be exchanged at banks, bureaux de change andmany hotels. There are ATMs in the main tourist centres and creditand debit cards are widely accepted in all the big resorts. Banks'opening hours may vary, but tend to be from 9.30am to 3pm (Mondayto Thursday) and 9.30am to 04.30 pm (Fridays).
Language:
English is the official language of theBahamas.
Electricity:
Electrical current in the Bahamas is 120 volts, 60Hz.Two-pin, flat blade plugs and flat blade plugs with round groundingare standard.
Entry Requirements:
United States passport holders must have a passport valid forperiod of intended stay. A visa is not required for visits of up toeight months for those carrying a passport issued in mainland USA.Passport holders living in US territories can stay for up to threemonths visa-free.
Visitors from the United Kingdom should ensure that theirpassport is valid for the period of intended stay and that theyhave proof of return or onward tickets. British Citizens can visitwithout a visa for stays of up to eight months. Passengers with aBritish passport with nationality of "British Overseas TerritoriesCitizen", "British National (Overseas)", "British OverseasCitizen", "British Protected Person" or "British Subject" can visitwithout a visa for a maximum stay of three months.
Canadian nationals must hold a valid passport, but no visa isrequired for a stay of up to eight months.
Passports and other documents must be valid for the period ofintended stay. Australians can stay in the Bahamas without a visafor a period of up to three months.
South African nationals must hold a valid passport, but no visais required for a stay of up to three months.
Irish nationals must hold a valid passport, but no visa isrequired for a stay for up to three months.
United States passport holders must have a passport valid forperiod of intended stay. A visa is not required for visits of up toeight months for those carrying a passport issued in mainland USA.Passport holders living in US territories can stay for up to threemonths visa-free.
New Zealanders require a valid passport but do not require avisa for a stay of up to three months.
Passport/Visa Note:Visa:
All visitors must be in possession of a return or onward ticket,plus proof of funds, and a passport valid for period of intendedtravel. As part of the Western Hemisphere Travel Initiative (WHTI),all travellers travelling between the United States and Canada,Mexico, Bermuda, and the Caribbean region are required to present apassport or other valid travel document to enter or re-enter theUnited States. It is recommended that passports are valid for sixmonths beyond travel to any country.
Travel Health:
Many routine vaccinations are considered cautionarymeasures, as food and water sources are typically safe and wellmanaged in the Bahamas. Visitors should steer clear of fruit orvegetables unless peeled or cooked, and note that some types offish, including tropical reef fish, are poisonous to eat even whencooked. Visitors should also use mosquito repellent to avoid bites.Medical facilities are good in Nassau and Freeport, but expensive,and usually require payment in cash on treatment; as a result,comprehensive travel insurance is advised.
Tipping:
Many hotel and restaurant bills in the Bahamas automaticallyinclude a service charge of about 15 percent; if this is notincluded a 15 percent tip is expected for most services, includingtaxi journeys. Hotel bellboys and porters usually receive about BSD1 per bag.
Safety Information:
Most visits to the Bahamas are trouble-free, though care shouldbe taken in the major cities of Nassau and Freeport. Visitorsshould take sensible precautions and not carry large amounts ofcash or jewellery on their person or wander away from the maintourist areas, especially after dark. In light of several fatalaccidents and serious injuries that have occurred using rentedwatersports equipment, it is advisable that only those experiencedon jet skis consider renting them on New Providence and ParadiseIsland. The watersports industry in the Bahamas is poorly regulatedand visitors should only rent equipment from reputable operatorsand make sure that they have received adequate training beforegoing out onto the water. Hurricane season is from June to the endof November and visitors should monitor weather forecasts beforemaking travel plans.
Note: 28/11/19
Hurricane Dorian struck the Bahamas in September 2019 and wasthe most intense recorded tropical cyclone to affect thedestination. Considered to be the worst natural disaster in thecountry's history, it devastated infrastructure and interruptedhealth and social services. Recovery efforts are underway andtourism has started to rebound in the portion of the countryaffected by Dorian - specifically Grand Bahama Island and the AbacoIslands.
Local Customs:
A vital part of Bahamian custom is their dialect of Englishwhich is characterful and descriptive, and, while it may take sometime to come to grips with, it will only add more colour totravellers' experiences of the Bahamas. Handshakes are the norm forgreeting people and visitors should default to addressing locals bytheir surnames, as the use of first names is reserved forincredibly close firends. Visitors should also act in a humble andaccepting manner while in the Bahamas, as the locals will treat youin this way; however, Bahamians also have a wicked sense of humourand they have great fun teasing others as a sign of affection.Visitors should note that some of the islands and resorts are veryupmarket and require a certain standard of dress. Beachwear shouldbe confined to the beach and smart-casual dress is usually expectedin the evenings.
Business:
Nassau is the business centre of the Bahamas, whose economy isheavily dependent on tourism and offshore banking. Businessprotocol is fairly relaxed, although appropriate business attire isexpected. Meetings are usually held in conference rooms, they beginpunctually, and business cards are customarily exchanged and shouldbe treated respectfully by being placed in a card case. Handshakeson introduction are the norm between both men and women and womenare treated as equals in the business environment. Moreover,colleagues and business acquaintances should be addressed by theirprofessional or academic title and surname. Always be punctual formeetings and do not try to hurry others in an effort to endmeetings more quickly as this is perceived as rude. Office hoursare generally 9am to 5pm, Monday to Friday.
Communications:
The international access code for the Bahamas is +1, in commonwith the US, Canada, and most of the Caribbean, followed by 242.Mobile networks and internet cafes are widely available. Wifi isbecoming more accessible, especially in the tourist areas.
Duty Free:
Travellers to the Bahamas over 18 years do not have to pay dutyon 200 cigarettes, or 50 cigars or 454g of tobacco; 1 litre spiritsand 1 litre wine (all imported beer is subject to duties); andother goods to the value of US$100. Prohibited items includefirearms and ammunition without a police permit. Pets and dogs fromcountries with rabies infections are strictly prohibited fromentering the country.