Fraser Island
This is the world's largest sand island, situated a two-hour drive north of Brisbane. Fraser Island has a unique ecological system of giant dunes, forests, streams and freshwater lakes, and in 1993 it was placed on the UNESCO World Heritage List. The island draws visitors wishing to explore the unique elevated lakes (there are more than 200 of them) which contain pure, acidic water that is so low in nutrients that few fish survive in them. The island, well-covered in vegetation, is inhabited by bats, dingoes and more than 350 species of birds. It also features giant satinay trees that stand 60 metres high as well as several other rare and ancient botanical species. The island is 75 miles (120km) long and about nine miles (15km) wide, and can be explored on walking trails or by four-wheel-drive vehicle. Accommodation is plentiful on the island, in ecologically sensitive resorts.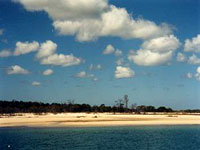 Fraser Island Judith Duk
Tamborine Mountain
Tamborine Mountain is inland from the Gold Coast, about 21 miles (34km) northwest of Nerang and about 40 miles (62km) from Brisbane. It is a popular scenic drive destination, as the area includes seven national parks featuring a variety of subtropical rainforest. Mount Tamborine itself rises 1,837ft (560m) above sea level. The main Tamborine National Park covers a large section of the mountain, offering walking trails through abundant rainforest and past waterfalls, with excellent picnic facilities. There are also numerous art and craft galleries in the area, several restaurants and a few wineries. Tamborine Mountain is the perfect excursion for those staying on the Gold Coast who want to experience more of Australia's natural landscapes than just the lovely beaches.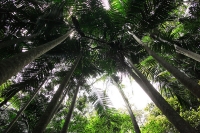 Mount Tamborine Rainforest Steve Garner
Wet n Wild Water World
This premier water theme park was recently voted Brisbane's best tourist attraction. Situated at Oxenford on the Pacific Highway, in 20 acres of tropical parkland, it incorporates a wave pool, children's pool, speed slide, toboggan ride and a variety of twisting slides, all supervised by fully qualified lifeguards. There are also barbecue and picnic facilities in the park, as well as a cafe and souvenir shop. A variety of combo tickets are available, including a combined pass to three of the big theme parks: Wet 'n Wild, Movie World and Sea World. Wet 'n Wild is open every day of the year except Christmas and Anzac Day, and the water is heated when necessary, ensuring a fun day out even in miserable weather.
Address:
M1 Pacific Motorway, 12 miles (20km) north of Surfers Paradise and 31 miles (50km) south of Brisbane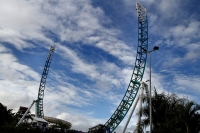 Wet n Wild Water World Phalinn Ooi
Sanctuary Cove
Billed as 'Australia's first fully integrated tourism resort' the Sanctuary Cove holiday resort is situated on 474 hectares in picturesque surroundings around four man-made harbours on the Coomera River. Sanctuary Cove is a gated community, but is open daily and entry is free. The holiday resort can be reached by road, north from Surfer's Paradise or south from Brisbane (exit 57 off of the Pacific motorway), or by water (cruises operate daily). The waterfront Marine Village contains more than 80 speciality stores, cafés and restaurants and visitors on holiday here can watch glass-blowing and opal cutting. The Sanctuary Cove holiday resort also contains a health and fitness centre, two championship golf courses, a 300-berth marina and a private country club. There are many major events held through the year such as the Sanctuary Cove International Boat Show (each May), golf tournaments and concerts.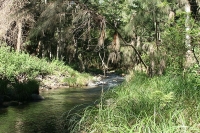 Coomera River, near Sanctuary Cove Sanx
Surfers Paradise
Formerly a small coastal resort town, the Surfer's Paradise holiday resort has blossomed into the pulsating heart of the Queensland Gold Coast. Set on a peninsula, about 50 miles (78km) from Brisbane, with the warm Pacific Ocean on one side and the deep blue Nerang River on the other, Surfer's Paradise is considered to be the holiday capital of Australia. Visitors throng here to holiday among the bright lights, shops, high rise resort hotels and attractions squeezed onto the finger of land that is surrounded by a 492-foot (150m) wide beach that stretches for almost six miles (10km) in each direction. Although now best known for its more glitzy attractions, Surfer's Paradise is also a popular surfing destination and deserves its name, though those keen to catch some waves should note that the breaks can get very busy.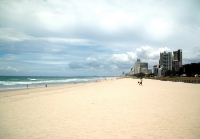 Surfer's Corner, Queensland Daniel Axelson
The Gold Coast generally enjoys a warm, subtropical climate all year round with temperatures seldom dropping below 68°F (20°C). During the summer months, between November and May, the area experiences daily temperatures exceeding 86°F (30°C), with frequent afternoon showers. Cyclones and flooding also occur during this period. The rain abates from June to October and the days are still warm, although a pullover might be required on some evenings. The Gold Coast enjoys about 300 days of sunshine a year, with two distinct seasons. The wet season occurs in the summer months, the rainfall being an upshot of the high temperatures and tropical humidity, and the dry season occurs from June to October, providing the Gold Coast with consistent weather and pleasant temperatures.
Coolangatta Airport
Location:
Gold Coast Airport is located on the Gold Coast Highway, one mile (3km) from Coolangatta.
Getting to the city:
A free Airport Link shuttle links to public transport outside the airport on the Gold Coast Highway. The Gold Coast Tourist Shuttle operates from the airport to most accommodation along the Gold Coast strip, but services must be pre-booked. Taxis are available outside the terminal building, and several limousine hire companies operate from the airport. A Transport and Information desk is located outside the International Arrivals hall.
Car Rental:
Car rental companies, including Avis, Hertz, Budget, Thrifty and Europcar, are located opposite the check-in counters.
Fascilities:
A Travelex currency exchange booth is located in the International terminal. Other facilities include cafes, bars and snack bars, Internet kiosks, various shops and duty-free stores. Facilities for the disabled are good.
Parking
Short and long-term parking is available adjacent to the terminal building. Disabled parking spaces are available in both lots with direct access to the walkway linking to the terminal building.
One of the best destinations in the world for fun in the sun, the Gold Coast is all about beaches, glitzy hotels, theme parks, and a riotous nightlife. Surfer's Paradise is the holiday hub on the Gold Coast and the main lure for travellers, with glorious shopping, partying and dining options to tantalise visitors. For a brilliant view of Surfer's Paradise, climb up to the Observation Deck of the Q1 building, the tallest building in the Southern Hemisphere.
Favourite theme parks along the Gold Coast include Sea World, Movie World, Wet n Wild, WhiteWater World and Dreamworld.
Those who want to meet the local (non-human) wildlife, should head to the Currumbin Wildlife Sanctuary, David Fleays Wildlife Park or Paradise Country for close encounters with animals like koalas. And those wanting a break from the beach festivities and the serious business of getting a perfect tan, should explore the beautiful national parks in the region, which include Lamington and Springbrook. A visit to Tamborine National Park is another popular excursion from the coast.