The Gabba
Named after the suburb of Woolloongabba in which it is located, and with a seating capacity of 42,000, the famous Gabba Cricket Ground is just a short bus ride from the city of Brisbane. Visitors can check out locals, the Queensland Bulls Cricket team or the Brisbane Lions Australian Rules football team, depending on when you choose to visit. Over the years The Gabba has hosted athletics, Australian Rules football, baseball, concerts, cricket, cycling, rugby league, rugby union, soccer and pony and greyhound races. Those lucky enough to catch an international cricket match are ensured a great day out. Sport is integral to Australian culture and even for those who are not themselves fanatical a visit to this passionately supported sports ground will be an exciting experience.
Address:
Vulture Street, Woolloongabba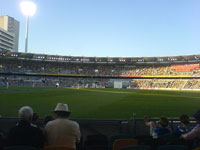 The Gabba Ryanlerch
Lone Pine Koala Sanctuary
The world's oldest and largest koala sanctuary, the Lone Pine Koala Sanctuary is home to more than just the cute and cuddly koala, but also to kangaroos, Tasmanian devils, wombats, echidnas and various species of reptiles as well as Australian parrots, cockatoos, kookaburras and cassowaries. Lucky visitors are actually able to handle the koalas here (for a fee) making this one of only a few sanctuaries in the world where this is possible - a dream come true for many. Feeding and petting is also permitted and is carefully monitored, making this an ideal activity for families travelling with small children. The Lone Pine Koala Sanctuary is arguably the best place to get up close and personal with Australia's unique animals, and a delight for the whole family.
Address:
708 Jesmond Road, Fig Tree Pocket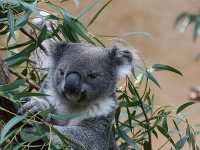 Koala Rennett Stowe
South Bank
The South Bank is a central Brisbane district packed with world-class attractions and experiences for visitors. It attracts nearly 10 million people each year, mostly to the South Bank Parklands, which were established on the former site of World Expo 88. The Parklands contain Australia's only man-made beach and lagoon, right in the heart of the city, known as South Bank Beach. There are also rainforest walks, picnic and barbecue areas and water features. One of Brisbane's most popular tourist attractions, South Bank is also home to the Queensland Cultural Centre, which includes Queensland Museum, Queensland Art Gallery, the State Library of Queensland, the Greater Union Hoyt's South Bank Cinemas and the Queensland Performing Arts Centre, which all line the Brisbane River proudly.
Shoppers and fashion lovers will enjoy Little Stanley Street, where all the latest in fashion can be picked up from the boutiques and retails stores lining the strip. The South Bank Art and Craft Markets take place every Friday night, as well as every Saturday and Sunday during the day. Visitors should head to the South Bank Visitors Centre which provides information on current events, including cultural activities, accommodation options, event information and details regarding restaurant and bar facilities.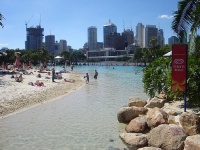 South Bank Streets Beach Kevin Gibbons
Story Bridge
One of the oldest bridges in Australia, the Story Bridge is a 3,517-foot (1,072m) long cantilevered bridge which spans the Brisbane River, connecting Fortitude Valley to Kangaroo Point. Brave visitors who are certain they don't suffer from vertigo can climb to the top of the bridge and be rewarded with breathtaking views over Brisbane's cityscape. One of only a handful of bridge climbs in the world, the Story Bridge is well worth a visit for those travelling through Brisbane. Advance bookings are recommended and money can sometimes be saved by booking online. Special deals are available for groups and there is even an abseiling option. Check out the official website listed below for more details.
Address:
Level 1, 170 Main Street, Kangaroo Point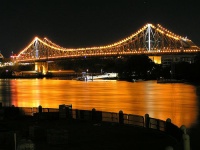 Story Bridge Cyron
Gondwana Rainforests of Australia
Formerly known as the Central Eastern Rainforest Reserves, the Gondwana Rainforests are so-named as the fossil records show that when Gondwana existed it was covered by the same kind of rainforests. Gondwana was a southern supercontinent that existed approximately 550 million years ago, about 250 million years before Pangaea.
The reserve includes 50 national parks which include Lamington National Park, Mount Chinghee National Park, Springbrook National Park, Mount Barney National Park and Main Range National Park, among many others that lie on the New South Wales side of Queensland. There are very few places on earth that contain so many plants and animals which remain fairly unchanged from their fossil records. The rainforests are remarkable and hugely rewarding for hikers and nature-lovers. Unsurprisingly, the forests have been UNESCO-listed.
There are a number of entry-points to the rainforest and despite the pristine nature of the region, there is sufficient infrastructure to enable in-depth exploration of the forest, with well-maintained access-roads and walking trails, a number of adventure tour operators offering activities, and various accommodation options.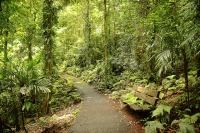 Gondwana Rainforest Andrea Schaffer
Sea World
One of Queensland's most popular attractions for visitors of all ages and an absolute must while on holiday with the kids in Brisbane, Sea World offers marine attractions, rides, shows and much more. Check out the ocean's most fearsome predator at Shark Bay, get up close and personal with Australia's only polar bears at Polar Bear Shores or check out the Fairy penguins in their penguin suits, before taking a stroll through the Sea World Aquarium to discover Australia's exotic marine life. The adventurous can climb aboard the Jet Rescue rollercoaster ride - an exhilarating ride for kids of all ages.
Address:
Sea World Drive, Main Beach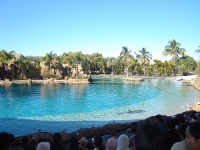 Sea World, Queensland Kevin Gibbons
Brisbane enjoys a subtropical climate with very high humidity and temperatures in the summer months, between December and February, and dry, mild winters, between June and August. Summers in Brisbane are often plagued with thunderstorms, heavy hailstorms, cyclonic winds and drought, but generally the warm, sunny weather is well suited to the holidaymakers who visit for leisure and pleasure all year round. The rainy season runs from November to March. Temperatures average between 67°F (19°C) and 84°F (29°C) in the peak summer months, but it is only marginally cooler the rest of the year, with the exception of the winter months, when temperatures average between 49°F (9°C) and 71°F (22°C).
Brisbane Airport
Location:
The airport is situated eight miles (13km) northeast of Brisbane.
Transfer Between Terminals:
The Airport Transfer Bus takes passengers between terminals and from both terminals to the Skygate shopping precinct for free.
Getting to the city:
The Airtrain Rail Link departs every 15 minutes to and from the Brisbane Central Business District. It operates between 5.15am and 10pm, taking about 20 minutes. There is also a direct link to the Gold Coast. Taxis, limousines and airport buses are also available from both terminals.
Car Rental:
Car hire companies represented at the airport include Avis, Budget, Hertz, Europcar, Redspot and Thrifty.
Airport Taxis:
Black & White Cabs and Yellow Cab Co can be hailed at the airport. A A$3.70 airport pick-up fee is charged in the airport taxi ranks, and the meter fee is added to this cost.
Fascilities:
The airport includes cafes, bars, and restaurants, bureaux de change and ATMs, duty-free shopping facilities, and a huge variety of other shopping opportunities. Hotel reservation and visitor information services are also available.
Parking
Short-term parking is adjacent to the terminals, and costs A$4 for 15 minutes, A$9 for 30 minutes, A$18 for an hour, A$22 for two hours, A$27 for three hours and A$28 for four hours. Long-term parking is connected to the terminal via a covered walkway and costs A$56 for four to 24 hours, while the Airpark costs A$20 for one day and is farther from the terminals, accessible by the complimentary shuttle service.
There are three main types of public transport in Brisbane: buses, trains and ferries (CityCats), all operated by TransLink. Bus routes may be somewhat complicated for visitors, but they do cover most of the city. Buses need to be flagged down and will not automatically stop at bus stops. Two free bus routes that cover a number of popular tourist attractions are available in Brisbane: the City Loop operates around the CBD between red signposted bus stops, using distinctive red buses; and the Spring Hill Loop operates between the CBD and Spring Hill between yellow signposted bus stops, using distinctive yellow buses. Trains are quick and efficient, covering most of the city and suburbs. The ferry system, which serves points along the Brisbane River, is very popular with visitors. Ticketing for all forms of transport is cheap, and works on a zoning system. A variety of passes are available. Cycling is a popular option, and the city has many dedicated cycle-paths. Trains, buses and ferries are equipped to carry bicycles. Taxis can be found in ranks in the city centre and near most major hotels. Taxis may be pre-booked or hailed on the street. Driving a car in the city centre can be confusing because it consists mainly of a grid of one-way streets. There are parkades available downtown.
The most popular tourist attractions in Brisbane include Sea World, the Lone Pine Koala Sanctuary, South Bank, and the Queensland Maritime Museum, located on the southern bank of the Brisbane River. The best views of the city can be earned by climbing the iconic Story Bridge on the Story Bridge Adventure Climb, or hiking up Mt Coottha for splendid panoramic views.
Visitors to Brisbane who are travelling with kids in tow will be pleased to know that besides being in one of the most naturally beautiful countries in the world, Brisbane itself offers plenty of activities, both outdoors and in. Take the kids to the Children's Art Centre at the Queensland Art Gallery and Gallery of Modern Art for a more cultural outing, while a trip to Sea World, Queensland's most popular attraction, is guaranteed to please with dolphins, penguins and even sharks to captivate and enthral kids of all ages.
Pack a picnic, plenty of sunscreen and a Frisbee or ball and head to the New Farm Park where rolling green grass, fig trees and playgrounds offer options for exercise and relaxation. Animal lovers can't miss a visit to the Lone Pine Koala Sanctuary where visitors can interact with cuddly koalas and even get to hold or feed them - a once in a lifetime experience. At the South Bank Parklands children can swim at the artificial beach, enjoy a ride on the Wheel of Brisbane, meet other kids in the playgrounds or even rollerblade and skateboard along the river's edge. Other great parks in Brisbane include Marchant Park and Peace Park, which both feature excellent playground areas.