Windsurfing and kite surfing are undeniably two of the biggestdrawcards for visitors to Aruba, with the island providing some ofthe best conditions possible in the world for these two sports.Whether a beginner or an expert, there are spots suitable foreveryone as well as plenty of schools and shops that providelessons and equipment hire. Further water-based activities includesnorkelling and diving along the shallow, world-class coral reefs,tubing, banana-boating, and much more.
Holidaymakers with a yen for horseback riding can indulgethemselves in Aruba's topography, which provides plenty ofadventurous and enjoyable excursions, from sand dunes to ariddesert plains. Riding experience is not required to join a guidedouting from one of the two main horseriding operators, RanchoNotorious and Rancho Del Campo. Most excursions take in theisland's sights and landmarks, like the Arikok Hills, thelighthouse and natural bridge.
A visit to the waterfront in Oranjestad is all it takes fordeep-sea fishing enthusiasts to hire themselves a private boat withcaptain and crew, for a day or a few hours, to set out to sea insearch of game. The island's temperate offshore waters boast a widevariety of Atlantic game fish, including white and blue marlin,Barracuda, Shark, Blackfin, Bluefin and Yellowfin Tuna. In highseason charters may be difficult to come by, so it may be wise tobook ahead through your hotel.
And of course, for the less actively-inclined, there are milesand miles of pristine white beaches, fringed with palm trees andringed with warm, bright blue water. An idyllic spot to relax andunwind.
San Nicolaas
San Nicolaas is the industrial centre of Aruba, and the island'soldest and largest town. Until the late 19th century it was a smallfishing village but all this changed with the mining of phosphateon the island, and more recently the discovery of oil off the coastof Venezuela. The town provides a glimpse of old British-Caribbeancharm and contains a handful of restaurants and shops, most notablein a section of the town's main road that has been turned into apromenade.
There are a few popular beaches to the east of the town thatoffer good swimming and snorkelling opportunities and are suitablefor families. The main natural attraction in San Nicolaas is thenatural bridge, carved out of rock by wind and water, that can befound in nearby Seroe Colorado.
Charlie's Bar is another popular attraction. Established in1941, local lore has it that the bar used to serve rowdy sailorsand oil refinery workers. Over the years, the bar's patrons haveoften left little keepsakes there - a licence plate, a shirt, ahat, a frisbee, and much more. All of these items now hang from thebar's ceiling, giving the space an eclectic feel. The bar has beenfeatured in two recent novels by the American author DanielPutkowski.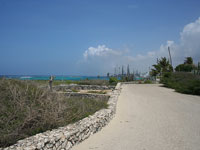 San Nicolas in Aruba Ian Mackenzie
Arikok National Park
Arikok National Park encompasses a significant chunk of theinterior and a long stretch of the northern coast. The park hasmiles of well-marked hiking trails and this, for most, is the bestway to discover it.
Between the towering cacti and the contorted divi-divi trees canbe found the best preserved Indian cave paintings on the island,deserted plantation houses, and the ruins of an old gold mine.There are also two ancient Aruban adobe huts, made entirely frommaterials found on the island, that have been carefully restoredusing traditional building techniques. The huts give a fascinatinginsight into the life of Arubans before they were able to importmany useful materials into the country.
Within the park is Mount Jamanota, which at 620ft (188m) isAruba's biggest hill, as well as the only slightly less high ArikokHill. From the top of either hill one can enjoy good views of theisland and on a clear day one can see across to Venezuela. At thesouthern reaches of the park are the Guadirkiri Caves and theTunnel of Love. Legend has it that the headstrong daughter of anIndian Chief was trapped here with an unsuitable suitor and left toperish but their love-boosted spirits shot through the roof of thecave and into heaven.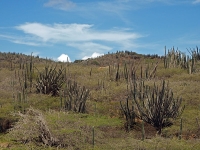 Arikok National Park $Mathe94$
Aruba Beaches
Just north of the capital, Aruba's best stretch of beachesextends four miles (7km) between Eagle Beach and Palm Beach. Theendless golden sand and crystal-clear shallow water has attractedcrowds and with them the high-rise, luxury hotel complexes thatline the beach.
There is no shortage of bars and restaurants to choose from andbeachgoers are able to hire all sorts of toys including kayaks,windsurfers, snorkelling gear and catamarans. North of Palm Beachthere many colourful reefs and shipwrecks to entice divers andsnorkellers. Some shallower reefs are so close to the shore thatit's possible to walk out into waist-high water to look at thesponges and coral. Diving trips, windsurfing and sailing lessonscan be arranged through most hotels. Tubing, parasailing andbanana-boating are also available, and very popular.
For those looking to take a break from the beach, the nearbyButterfly Farm is a fun outing. There's also the Bubali BirdSanctuary, a small marshland where visitors can view hundreds ofspecies of migratory waterfowl including coots, cormorants, ternsand herons. A favourite place to enjoy the sunset is at therestaurant by the California lighthouse on the northern tip of theisland. The lighthouse was built after the British steamship, theCalifornia, which ran aground here in 1891.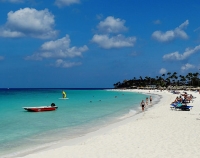 Aruba beach Roel van Deursen
Natural Pool
Also known as 'Conchi' or 'Cura di Tortuga', Aruba's NaturalPool is a must-see tourist attraction. It is formed from adepression in the surrounding volcanic rock, and filled by thespray of the tide smashing into the deserted coastline below. TheNatural Pool is a unique geological formation, and a tranquil placeto spend the day swimming.
The pool is situated in the heart of Aruba's most ruggedterrain, and is inaccessible by car; however, visitors can hire orcharter a Jeep to take them there, or hike there, or (most romanticof all) get there on horseback. The sense of discovery in 'finding'the Natural Pool in the midst of the rocky, almost lunar landscape,is second-to-none. Take note, though, that the rocks around thepool can be sharp and are also slippery because of the spray, so itis a good idea to wear shoes when clambering over the rocks. Thereare also often little crabs crawling all over the rocks.
Address:
Windward Coast, Noord, Aruba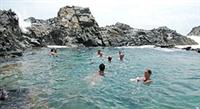 Natural Pool Sid
Oranjestad has a tropical climate with average daily highsreaching 86°F (30°C) year-round. The temperature never gets toohigh due to the cooling trade winds, but the best time to visitOranjestad is in peak tourist season between mid-December andmid-April. Rainfall is infrequent, but likely to occur betweenOctober and January, if at all.
With an average temperature of 82°F (28°C) all year round andnever dropping below 68°F (20°C), Aruba is constantly hot. Luckily,visitors are kept relatively cool by the constant trade winds. Thepeak tourist season is between mid-December and mid-April, and ifyou can visit outside this period, you can expect room rates to bealmost halved. Rainfall is infrequent, but if it occurs at all it'susually between October and January. You can visit Aruba all yearround with great weather, but to avoid the busiest times, go inlate April or early May.
Queen Beatrix International Airport
Location:
The airport is located two miles (3km) southeast ofOranjestad.
Getting to the city:
Local buses leave regularly to Oranjestad from bus stops justoutside the airport property. Tour buses can take passengers totheir required destination. Taxis are also available.
Car Rental:
Car rental companies represented at the airport include Avis,Alamo, Budget and Hertz.
Airport Taxis:
Taxis are available from the airport. Additional fees may belevied for extra luggage, public holidays and night time fares.
Fascilities:
The airport has a variety of shops including duty-free shopping,several restaurants and snack bars. A bank offers banking servicesseven days a week. A VIP lounge is available.
Parking
Short- or long-term parking is available with hourly ratesbeginning at AWG 3 and daily rates starting at AWG 30.
Money:
The official currency is the Aruban Florin (AWG). The Florin istied to the US Dollar. US currency is accepted everywhere and othermajor currencies can be exchanged at banks. Credit and debit cardsare widely accepted and there are ATMs in Oranjestad.
Language:
The official languages in Aruba are Dutch and the nativePapiamento. English and Spanish are taught in school and are alsowidely spoken. Some French is also understood.
Electricity:
Electric current in Aruba is 127 volts, 60Hz. Flat twoand three-pin plugs are standard.
Entry Requirements:
United States passport holders must have a passport valid forperiod of intended stay. A visa is not required for stays of up to90 days.
UK nationals require a passport valid for period of intendedstay and may stay for 90 days without a visa.
Canadian nationals require a passport valid for period ofintended stay. A visa is not required for stays of up to 90days.
Australian nationals require a passport valid for period ofintended stay, but no visa for stays of up to 90 days.
South African nationals must hold a passport valid for period ofintended stay, and a visa. Holders of a valid multiple entry 'C' or'D' visa issued by a Schengen member state can stay for up to 90days without a visa.
Irish nationals require a passport valid for period of intendedstay, but no visa for stays of up to 90 days.
United States passport holders must have a passport valid forperiod of intended stay. A visa is not required for stays of up to90 days.
New Zealanders require a passport valid for period of intendedstay, but a visa is not needed for a stay of up to 90 days.
Passport/Visa Note:Visa:
All passports must be valid for period of intended stay. It ishighly recommended that travellers always have six months validityon their passports after departure. Visitors must hold sufficientfunds, onward or return tickets, and all documents for nextdestination. As part of the Western Hemisphere Travel Initiative(WHTI), all travellers travelling between the United States andCanada, Mexico, Bermuda, and the Caribbean region are required topresent a passport or other valid travel document to enter orre-enter the United States. If departing from the USA a validpassport will be required by immigration authorities.
Most visas can be extended up to a total of 180 days percalendar year.
Travel Health:
There are no special health requirements for visitors to Aruba,but travellers coming from yellow fever infected countries inAfrica or the Americas, aged over six months, need an immunisationcertificate. Aruba has experienced occasional outbreaks of denguefever, a flu-like illness transmitted by Aedes mosquitoes thatfavour densely populated areas. The use of insect repellent isadvised. Visitors are warned that some types of fish, includingsome tropical reef fish, are poisonous when eaten, even cooked.Medical care is good in Aruba, which has one hospital, the Dr. H.E.Oduber Hospital. There are three classes of service for patientsdepending on the level of their insurance. Health insurance isrecommended. Food and water are considered safe.
Tipping:
A 10 or 15% tip is usually included on restaurant, bar and roomservice bills in Aruba, otherwise a tip should be added, usually10-20% depending on the service. There is an 11% room tax on hotelbills. Taxis should be tipped around 15% and porters expect a tipof US$1 per bag.
Safety Information:
Crime is not a major problem in Aruba and most visits aretrouble-free. However, visitors are still advised to takecommon-sense precautions, such as locking valuables in the hotelsafe and taking care when walking home at night.
Business:
Oranjestad is the main business centre in Aruba and the focusfor the island's growing international financial services. Englishis considered to be the language of business. Meetings aregenerally held in formal settings such as offices or conferencecentres; smoking and chewing gum are not acceptable. Handshaking iscustomary for introductions between both men and women; femalebusiness associates should be treated with as much respect as menand often hold high positions in companies. Punctuality formeetings is required. Business hours are 9am to 5pm.
Communications:
The international dialling code for Aruba is +297. Internetcafes, as as well as hotels with free wifi, are widely available.The Aruba Tourism Authority has also introduced free wifi zones inrenowned tourist areas on the island.
Duty Free:
Travellers to Aruba over the age of 18 do not need to paycustoms duty on 200 cigarettes or 50 cigars; 1 litre alcohol andgift articles to the value of AWG 100. If goods per person exceedAWG 500 in value this should be declared on customs forms forclearance at the freight department.
Hiring a car is a great way to get around the island, and manycompanies offer three-day specials for such excursions; however,travellers planning to stay on or near a resort will quickly findthey don't really need a car. Aruba has a good bus system thatconnects most hotels with downtown Oranjestad, running roughlyevery 30 minutes from 8am to 6pm and every hour from 6pm tomidnight, Monday through Saturday. Taxis are also available(although hard to hail, so it's best to have the hotel orrestaurant call for one), and a preferable mode of transport afterdark. There are no meters but drivers have a list of officialfares.