From the colourful and bustling of Buenos Aires to the breathtaking Andes MountainRange in north, Argentina has no shortage of sightseeingopportunities. Boasting a plethora of different habitats andenvironments to explore, it would take visitors a good few monthsto see everything this South American gem has to offer.
The northern regions of the country offer an exciting blend ofcolonial heritage, natural beauty and an indigenous flavour, whilethe spectacular Iguazu Falls, surrounded by the lush forest of theIguazu National Park, are a must see. Enjoy a day of wine tastingin Mendoza, or head west towards the Chilean border and marvel atthe Andes Mountain Range. The curious mix of desert, snow-cappedmountains, sandy beaches and majestic glaciers in the Patagoniaregion is extraordinary, and the world's southern-most city,Ushuaia, nestled on the Tierra del Fuego archipelago, is adeparture point for those keen on a trip to Antarctica and alsooffers some of the best brown trout fishing in the world.
The sights and sounds of Buenos Aires are a major draw for many.Stroll along the tree-lined parks and boulevards, visit EvitaPeron's grave at La Recoleta Cemetery, explore La Boca, the city'smost popular barrio, and take in the Latin American flair byenjoying a romantic night of tango.
Buses are the most cost effective way to navigate thisimpressive country and domestic flights are available at affordableprices. The best time of year to visit Argentina is during theautumn months from March to June when the weather is a littlecooler.
With so much to see and so little time, it's best you getpacking and head off to Argentina for the adventure of alifetime.
Cabildo
Opposite the Casa Rosada on the Plaza de Mayo is the resplendentformer Spanish town hall, the Cabildo, a fascinating old colonialbuilding fronted by arches that once encircled the plaza, backduring the May Revolution in 1810. While the building'sconstruction originally began in 1610, it was almost immediatelytoo small. Construction and changes were ongoing well into the1800's, and the building was finally completed in 1894.
The guards outside the building are members of the reveredRegimiento de Patricios, which was formed in 1806, and the changingof the guard every hour is a popular attraction. They still wearthe traditional uniforms they have donned for nearly 200 years.
The interior houses a small museum, which displays someinteresting architectural relics, religious icons and watercolourpaintings by Enrique Pellegrini, and it is all furnished incolonial period pieces. The views from the Cabildo's windows aresome of the best of the Plaza de Mayo. A crafts market is hosted onthe back patio on Thursdays and Fridays, from 11am to 6pm.
Address:
Calle Bolivar 65
Opening time:
Tuesday to Friday 10am-5pm, Saturday and Sunday10am-6pm.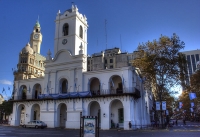 El Cabildo HalloweenHJB
Casa Rosada
One of the world's most famous balconies juts out of Argentina'sPresidential Palace, known as the Casa Rosada. The pink buildinghas been the scene of many a political rally, particularly duringthe regime of the notorious and tragic Juan and Eva Peron.
The building began as a fort in 1594, and was turned into acastle-like centre for colonial government in 1713. Additions andchanges were made to the building until 1857, when it wasdemolished and the Casa Rosada we know today was built. The Italianstyle building, fronted with palm trees and fountains, was paintedpink when it was converted from a Customs and Post Office buildinginto the presidential palace. President Sarmiento decided toappease opposing political parties by merging red and white into apink colour scheme for the palace.
The building has since been declared a National HistoricMonument of Argentina. Today the building houses a small basementmuseum displaying some presidential artefacts. Each evening, asmall platoon of mounted grenadiers emerge from the guardhouse tolower the flag on the Plaza, adding a touch of pomp and ceremony tothe pretty building.
Address:
Hipolito Yrigoyen 219, Plaza de Mayo
Opening time:
Museum: Monday to Friday 10am-6pm, Sundays 2pm-6pm.Guided tours are available.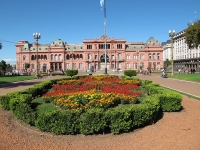 Casa Rosada Andrzej Otrębski
Cathedral Metropolitana
Situated in the Plaza de Mayo, the Neoclassical CathedralMetropolitana houses the tomb of General José de San Martin, therevered hero who liberated Argentina from the Spanish. The Generalwas originally buried in Franche, but his body was exhumed in 1880,transported to Beunos Aires and buried again, this time in amausoleum designed by a French sculptor. The mausoleum is guardedby three sculptures, each a life-size female figure representingArgentina, Chile and Peru.
The mausoleum also houses the remains of General Juan Gregoriode las Heras, General Tomas Guido, and the Unknown Soldier of theIndependence. The cathedral has been periodically rebuilt andrenovated since the foundation stone was laid in the 16th century.The current structure was finally completed in the mid-19thcentury. The interior has recently been renovated and the gildedcolumns, Venetian mosaic floors, and silver-plated altar are inpristine condition.
Some interesting things to see in the cathedral are the twopulpits, made by the sculptor Juan Antonio Gaspar Hernandez, thedirector of Buenos Aires' first art school, a wide variety ofcolonial sculptures, a collection of very good colonial oilpaintings, and the 1871 Walcker Organ containing more than 3,500tubes, one of the finest examples of its kind.
Address:
San Martin and Rivadavia streets, Plaza de Mayo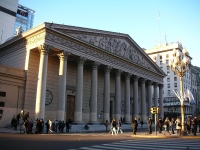 Cathedral Metropolitana Richie Diesterheft
La Recoleta Cemetery
An unlikely tourist attraction, La Recoleta Cemetery is wellworth visiting to see its magnificent display of monuments and theostentatious tombs of Argentina's rich and famous. The cemetery isthe second largest in the world, covering more than five hectaresand filled with more than 4,700 vaults. Due to its size, thecemetery is divided into several big blocks with avenues betweenthem, making navigation in the enormous space a little easier.
Each vault has the family name carved over its entrance, while acollection of brass plaques next to the entrance displays the namesof all the family members buried inside the vault. One of the moremodest, but by far the most celebrated, is the grave of Eva Peron.Every day thousands of visitors come to leave flowers at the doorof the Duarte family mausoleum where she is buried. Forty years on,Evita remains both the most revered and reviled figure inArgentina. Love her or loathe her, her spirit lives on in LaRecoleta.
In addition to Evita, another famous cemetery inhabitant is thesupposed daughter of Earl Alexander Walewski, Isabel, who died inBuenos Aires when just a baby. The superstitious say that on somenights, you can hear the baby crying from her godmother's arms.
Address:
Calle Junín, Plaza Francesa
Opening time:
Open daily. Guided tours areavailable.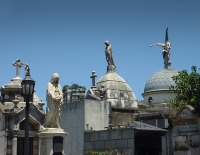 La Recoleta Cemetery RAYANDBEE
Plaza Dorrego
Plaza Dorrego lies in San Telmo, the bohemian artists' quarterof Buenos Aires and the birthplace of tango. The tiny square issurrounded by elegant houses, now mostly converted into antiqueshops and bars whose tables overflow onto the street. There arenumerous museums nearby the Plaza Dorrego worth visiting, includingthe Museo Histórico Nacional and the Museo de Arte Moderno.
On Sundays, the plaza is the setting for the ancient fleamarket, the Feria de San Pedro Telmo. Though you are unlikely todiscover too many bargains, you may find an interesting souvenir ortwo. Once the stallholders pack up their wares at 5pm, the squarebecomes a stage for informal tango dancing. This is as popular withthe locals as it is with tourists, and even the inexperienced maybe tempted to try it out.
Aside from the museums, flea markets and dancers, another of thesquare's main attractions is simply the people watching. Visitorsto Buenos Aires will not regret an afternoon spent whiling away thehours at a sidewalk cafe, soaking in the atmosphere and admiringthe passers-by until the dancers arrive for the evening'sfestivities.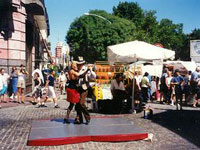 Informal tango in Plaza Dorrego BuenosAires Judith Duk
Teatro Colon
The Teatro Colón opened in 1908 and is one of the largestperforming arts theatres in the southern hemisphere, second only tothe Sydney Opera House in Australia. It was designed by Italianarchitect Francisco Tamburri and is an Italian Renaissance-stylebuilding with a seating capacity of 2,500 (although more peoplehave been squeezed in at times). Richly decorated in scarlet andgold with frescoes lining the cupola, the theatre has hosted manyinternational performers including Nijinsky, Pavlov, Pavarotti andDomingo, and is considered to be among the top five venues foracoustics in the world, an opinion voiced by Pavarotti amongstothers.
The theatre suffered during Argentina's political and economicdifficulties in the 1990s and early 2000s, with attendance fallingand the building suffering from neglect. However, in 2005 thetheatre was completely renovated and refurbished, and reopened in2010. In addition to hosting various concerts and performances, thetheatre is also home to the Superior Arts Institution of the TeatroColón, and guided tours take visitors to the theatre's workshops,rehearsal rooms, auditorium and stage.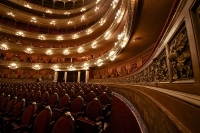 Teatro Colon Roger Schultz
La Boca
La Boca (The Mouth), situated in the south-east of Buenos Airesat the mouth of the Riachuelo river, is the most colourfulneighbourhood or barrio in Buenos Aires, original home of bothfootball legend Diego Maradona and the tango. An assortment ofbrightly-painted houses made of wood and metal line the streets,including the famed main street Caminito, in this poor but happyarea full of artisans, painters, street performers, cantinas andopen-air tango shows.
The neighbourhood was originally settled by Italian immigrantsfrom Genoa, most of whom came to work at the docks. Residents todayare still mostly of European descent, from Italian, Spanish andFrench to German, Arab and Basque. Today it is frequented by crowdsof tourists who come to soak up the lively atmosphere, watch tangodancers on the streets and squares, and sit in picturesque cafessipping coffee and beer.
La Boca residents are independent and fiery, as evidenced bytheir short-lived 1882 secession from Argentina that wasimmediately ended by the president. The area has been home toradical politicians over the years and saw many demonstrationsduring the unrest of 2001. Some places of particular interest in LaBoca are La Ribera theatre, and La Bombonera, the home of thefamous Boca Juniors football club.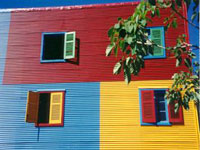 La Boca Judith Duk
Iguazu National Park
The Iguazú National Park is a huge subtropical rainforestcovering 135,000 acres and is home to thousands of differentspecies of flora, fauna and birds, including colourful parrots andhummingbirds. It is most famous for the Iguazú Falls, declared aNational Heritage Site by UNESCO. The deep flowing waters of theriver tumble down 275 falls, the most famous of which is Devil'sThroat. On the border with Brazil, it drops 230ft (70m), almosttwice the height of Niagara Falls. As well as enjoying the stunningviews from the series of platforms, visitors can enjoy kayaking andother watersports on the river.
The Iguazú Falls was one of the locations used for the 1986 filmand, appropriately, Jesuit Mission ruins remainnearby. Iguazú is home to the Guarani people, who sell theirhandmade crafts inside the park. Some activities available tovisitors include a ride on the Ecological Jungle Train, a meal atLa Selva Restaurant, and a trip to the San Martin Island at theheart of the falls. Travellers can also enjoy a trek along theGreen Trail or Macuco Trail, a walk along the Upper Circuit (thevery top of the falls) or the Lower Circuit (the bottom of thefalls), and a full moon walk accompanied by national parkguides.
Opening time:
Daily 8am-6pm.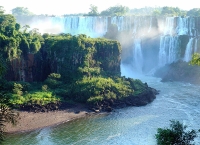 Iguazu Falls Martin St-Amant
Mendoza
The Mendoza Province rests at the foot of the Andes and isArgentina's main wine-producing region, peppered here and therewith wine farms offering tours and tastings. The area is known forits Malbec, and also produces some good Cabernet Sauvignon. Thecity of Mendoza, a low-rise city since 1861 when it was almostdestroyed by an earthquake, is characterised by wide, leafyboulevards and a massive network of canals. Well worth seeing isthe Enoteca Giol wine museum and if visiting in late February,don't miss the Fiesta Nacional de la Vendimia, an annualgrape-harvest festival accompanied by concerts and localcelebrations. Bodega La Rural is one of the biggest wine farms inthe area, offering tours that demonstrate the entire wine-makingprocess.
Near the border with Chile lies Mount Aconcagua. At 23,000 feet(6,900m), it is the highest mountain in the Western hemisphere. Themountain and its surrounds are wonderful for hiking and mountainclimbing, although it's important to note that during low season,tourists are allowed only short hikes for safety reasons. Highseason starts mid-November. Throughout the year, hiking without anofficial guide is discouraged, but even driving along the roadssurrounding the mountain will give plenty of scenic views. TheMendoza Province is home to La Lenas, one of the biggest and mostfamous ski resorts in Argentina.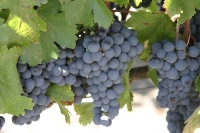 Malbec Grapes IanL
The Pampas
The vast flat plains of the Pampas are Argentina's agriculturalheartland and the birthplace of the gaucho (cowboy). Lyingsouthwest of Buenos Aires is the location of Argentina's famousbeef and grain industry, the source of the country's wealth. Thearea is festooned with small agricultural towns, which are home tothe majority of Argentina's population.
The area provides some of the best horseback riding in theworld, and excursions are available to different ranches wherevisitors can feast on asado after a day's horse riding. Visitors tothe area can also attend a doma, a gaucho gathering held everySunday. The domas consist of rodeo-like events, horse racing, andother games and competitions, as well as a market of stalls sellinggaucho-inspired crafts.
There are also some interesting animals that live only on thepampas, including the rhea (a large flightless bird, similar to anemu or ostrich), the pampas deer, the pampas fox, several armadillospecies, the white-eared opossum, the Elegant Crested Tinamou, andmore.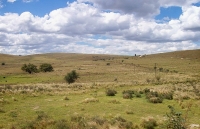 The Pampas Roberto Fiadone
Patagonia
Adventurous travellers are drawn to the savage beauty and richwildlife of Patagonia. This region of contrasts and extremes,stretching across Argentina and Chile, runs from the Coloradoriver, south of Buenos Aires, across to the southern tip of SouthAmerica. Many people visit the famous wildlife reserve of PeninsulaValdésgo between July and April, where southern right whales,elephant seals and other rare marine mammals come to breed in theirthousands. However, those going further south should visit only inthe summer months if they wish to avoid temperatures that plummetto -13°F (-25°C).
In villages along the valley of the Río Chubut, visitors canexplore the cultural legacy of the Welsh pioneers, and nearby atPunta Tombo lies the continent's largest penguin colony. Keenfly-fishermen come from around the world to test their skills inthe region's rivers, the best known of which is the Río Gallegos.On the western fringe, along the Andes, you will find the mostimpressive of Patagonia's great lakes and national parks. TheParque Nacional Perito Moreno, home to the aquamarine gem of LagoBelgrano, has excellent trekking possibilities, as does the ParqueNacional Los Glaciares. Here visitors will find one of the world'snatural wonders, the vast Perito Moreno Glacier, a great river ofice that breaks off into Lake Argentino.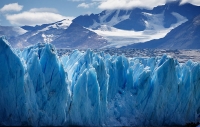 Western Patagonia David
Tierra del Fuego
This island territory at the tip of South America is shared byChile and Argentina and is a place of staggering scenery. Thoughfurther south, the region does not reach the extreme temperaturesof neighbouring Patagonia, but it is still not for thefaint-hearted. The principal tourist destination is Ushuaia, whichacts as a base for those visiting the dramatic Canal Beagle, ortrekking in the Parque Nacional Tierra del Fuego and the mountainranges of southern Tierra del Fuego, with its magnificent sceneryof lakes, snow-capped mountains and beechwood forests.
Ushuaia is also the place to go if you want to visit Antarctica,since many ships depart from there on journeys stopping at severalislands and taking in penguin colonies, seal and sea lion colonies,massive sea bird colonies, and more. The Les Eclaireurs Lighthouseis another attraction found in Ushuaia, and the area plays host toa few small ski resorts, featuring both downhill and cross-countryskiing. There is less reason to visit the north of the islandunless you are a keen fly-fishermen heading to the Río Grande, theworld's best brown-trout river.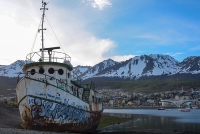 Ushuaia M M
Perito Moreno Glacier
Situated in Los Glaciares National Park, a UNESCO World Heritagesite, the breathtaking Perito Moreno Glacier is nearly 19 miles(30km) in length and spreads over an area of 97 square miles (250sq km). The spectacular, blue-white ice formation is one of theonly glaciers in the world that is growing, at a rate of seven feet(2m) per day. Visitors can marvel at the site of the glacier'calving': enormous chunks of ice breaking off into the water witha deafening crash, creating icebergs and causing large waves.
The glacier is also world renowned for its unique rupturingprocess; at certain periods the glacier's front reaches the coastalborder of the lake, blocking off the flow of water from the Andesand causing its waters to rise by about 66 feet (20m). When thepressure is too much, the dam of ice cracks and shatters, sendingicebergs downstream. Ruptures like this occur on average every fourto five years, although sometimes as often as every other year; themost recent rupture occurred in March 2016.
The closest town to this natural wonder is El Calafate inArgentina's Santa Cruz Province, which is about two hours' driveaway. There are regular buses from El Calafate to the glacier. Tourcompanies operating from El Calafate offer trekking trips that takevisitors out onto the glacier's ice, for anywhere from one to fivehours.
Address:
Los Glaciares National Park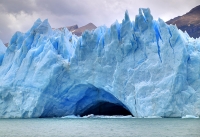 Perito Moreno Glacier Martin St-Amant
Floralis Generica
Floralis Generica is a working metal sculpture located in theUnited Nations square in Recoleta. Floralis Generica is composed ofstainless steel, weighing 18 tons and measuring 76 feet (23m) high.It was offered to the city by Argentine architect Eduardo FernandoCatalano, who described it as an 'environmental structure'.
Its metallic petals open and close based on the incidence ofsolar rays and visitors to the site will find the giant metalsculpture 'in full bloom' in the heat of the day and closed atnight. The sheer genius and technical artistry of the giant flowermakes it a sight worth seeing in Buenos Aires. The sculpture sitsabove a reflecting pond, adding to its charm, and the area aroundit has been landscaped to resemble woodlands with several pathsleading to the sculpture from different directions, providingcontrasting perspectives.
Address:
United Nations Park, Recoleta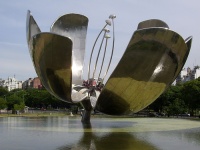 Floralis Generica Sebastian Dario
Nueve de Julio Avenue
At 416 feet (127m) wide, spanning the width of an entire cityblock, Avenida 9 de Julio is claimed to be the widest avenue in theworld. Named for Argentina's Independence Day, which falls on 9thJuly, the avenue was originally planned in 1888, but actualconstruction only began in 1935 after many disputes withlandowners. While the initial phase opened for public use in 1937,the avenue was only fully completed in the 1960s, with the southernconnections only completed after 1980.
The avenue runs from the Retiro district in the north toConstitucion station in the south, roughly one kilometre to thewest of the Rio de la Plata waterfront, and consists of 18 lanes oftraffic, nine on each side.
In the middle of the street stands a 67-metre-tall obeliskmarking the heart of Buenos Aires. The obelisk is a popular photospot, and visitors can climb to the top where they can look outover the Avenida 9 de Julio through its four observation windows.Lines B, C, and D of the Buenos Aires Metro converge at a stationlocated on the pedestrian underpass below the obelisk, and theunderpass also serves as a retail concourse.
It can take quite a while to cross the avenue on street level asopposed to using the underpass, since there are traffic lights ateach intersection, which can slow a pedestrian's crossing.
Address:
Avenida 9 de Julio, Buenos Aires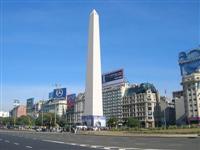 Nueve de Julio Avenue Obelisk Victoria Rachitzky Hoch
Buenos Aires Zoo
Home to over 350 animal species and known for some of its exoticbreeding, the Buenos Aires zoo is the perfect place for tourists,families, or a romantic date. With 89 species of mammals, 49species of reptiles and 175 species of birds, the zoo's goalsinclude conservation, producing research and educating thepublic.
Permanent exhibits include the Farm of the Zoo, where visitorscan feed and pet ponies, goats, sheep and donkeys, the Aquariumwhere visitors can see examples of the infamous piranha as well asother local fish, the Reptile House and the Tropical Rainforest.Disposable cameras are on sale and professional photographers areon standby to capture all the memories. Animal food can be boughtat the entrance and other stations located around the zoo toencourage visitors' interaction with the animals.
The best time to visit the zoo is on a sunny weekday afternoon,when time can be spent lounging in front of the elephant house orthe white tiger enclosure, for which the zoo is well-known, withonly a few other people to contend for the best view. Parts of thezoo are built to resemble Byzantine ruins, Indian temple ruins anda castle, making for some interesting photo opportunities.
Address:
Ave Sarmiento and Ave Las Heras
Opening time:
Tuesday to Sunday and holidays from 10am until 6pm.Open daily during school holidays.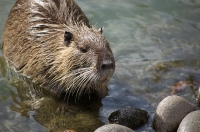 Buenos Aires Zoo Beatrice Murch
Galileo Galilei Planetarium
The Galileo Galilei Planetarium is located inside the Bosques dePalermo, its massive dome making it almost impossible to miss. Theplanetarium was commissioned in 1962 and building was completed in1966. In 1968, the planetarium was officially opened to the public.The building is made up of six floors, five staircases and a mainroom with a 60-foot (20m) diameter, filled with 360 seats.
On any given day, this planetarium is abuzz with the chatter ofchildren enjoying a spot of stargazing. This is a must for kids ofall ages and anyone with a love of stars, space and planets. Theplanetarium regularly changes its shows and displays, includingFirst Man in Space, A Blue Planet, Super Moons, Genesis: Birth ofthe Solar System, and many more. In addition to the main show inthe planetarium, there is also a small museum containing a lunarrock (a gift from Richard Nixon), a collection of100-million-year-old sea life fossils, and a metallic meteoritefrom Chaco Province.
Address:
Av. Sarmiento y Figueroa Alcorta, Palermo
Opening time:
Open Tuesday to Friday 9:30am-5pm, Saturday andSunday 11:30am-7pm.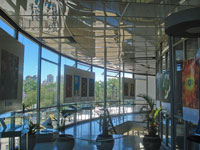 Galileo Galilei Planetarium Denise Mayumi
Buenos Aires Botanical Gardens
Lined with trees, flowers and other indigenous plants, theBuenos Aires Botanical Gardens are a great place to take the kids.The garden has been open since 1898 and was designed by CarlosThays in a triangular shape. There are three different styles ofgardening contained in the gardens - a symmetric Roman garden, apicturesque Oriental garden and a mixed French garden. With plentyof open space for kids to run around, its the ideal location torelax with a picnic or take a leisurely walk with the family. Thecentral greenhouse is also great to explore for the moreinquisitive children.
In more recent years, the garden has become home tohundreds of abandoned domestic cats. It's estimated thatapproximately one cat is abandoned in the gardens per day duringthe summer, so instead of fighting a losing battle trying to removethe cats, a volunteer society was established to feed and care forthe cats and put them up for adoption. Visitors to the gardens canrest assured the garden's cats are clean, tame and well-fed.
Aside from cats, the garden is filled withthirty-three artistic works such as sculptures and monuments, andthere is a Botanical Library that is open to the public.
Address:
Av. Las Heras at Plaza Italia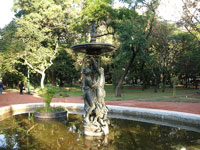 Fountain in Botanical Gardens Richie Diesterheft Follow
Las Grutas
One look at the beautiful beaches was all the residents at LasGrutas needed to start building what would become one ofArgentina's most popular resorts. The landscape is dramatic, withcliffs and plateaus shielding hidden beaches and caves, giving wayto dramatic sea views.
Las Grutas has a few main beaches numbered from zeroto seven, with zero being the closest to downtown. The town'sposition on the Atlantic coast gives it some of the warmest watersin Argentina, and the rugged coastline makes the area ideal forparagliding, hiking and other activities. There are scuba divingfacilities, and several spas that offer Thalassotherapy treatmentsusing local resources.
Las Grutas itself is a small town with a few hotelsand restaurants, but it makes a great base from which to exploreother interesting beaches and towns in the area, including SanAntonia Oeste, Puerto Madryn, Sierra Grande, and Punta Tombo.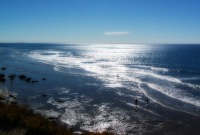 Las Grutas Lisandro M Enrique
Money:
The unit of currency is the Argentinean Peso (ARS). Currency canbe exchanged at banks and cambios (bureaux de change) but it iseasier to use ATMs, available in most towns, which reflect thecurrent exchange rate. Major credit and debit cards are generallyaccepted, and US Dollars can be used in many touristestablishments.
Language:
Spanish is the official language of Argentina but Englishis generally understood in the tourist areas.
Electricity:
Electrical current in Argentina is 220 volts, 50Hz.Most hotels and offices use the three-pin flat plug, however mostolder buildings use the two-pin round plug.
Entry Requirements:
US nationals require a passport for travel to Argentina, but novisa is required for stays of up to 90 days.
UK nationals require a valid passport, but no visa is requiredfor a stay of up to 90 days for British Citizens, British OverseasTerritories Citizens and British Overseas Citizens; and 30 days forBritish Nationals (Overseas).
Canadians require a valid passport, but no visa is required fora stay of up to 90 days.
Australians require a valid passport, but no visa is requiredfor stays of up to 90 days.
South African nationals must hold a valid passport, but no visais required for a maximum stay of up to 90 days.
Irish nationals require a valid passport, but no visa isrequired for a stay of up to 90 days.
US nationals require a passport for travel to Argentina, but novisa is required for stays of up to 90 days.
New Zealand nationals require a valid passport, but no visa isrequired for stays of up to 90 days.
Passport/Visa Note:Visa:
Valid passports are required for travel to Argentina. Visas arenot generally required for stays of less than three months, withthe possibility of an extension of stay. Visas are valid forseveral entries within the period of validity stated in the visa.It is recommended that all visitors have sufficient funds, as wellas onward or return tickets and documents required for nextdestination. It is highly recommended that passports have at leastsix months validity remaining after your intended date of departurefrom your travel destination. Immigration officials often applydifferent rules to those stated by travel agents and officialsources.
Travel Health:
There is a low risk of yellow fever, cholera and malaria in somenorthern provinces, so it is wise to seek your doctor's advice whentravelling to these areas. However, it is recommended that allvisitors to regions bordering Brazil and Paraguay, including IguazuFalls, be inoculated against yellow fever. Outbreaks of denguefever are on the increase, and visitors are advised to avoidgetting mosquito bites as there is no effective treatment forit.
A hepatitis A vaccination is recommended before travel toArgentina as well as a typhoid vaccination for those who might eator drink outside major restaurants and hotels. Water is safe todrink in major towns and cities. Medical facilities are good in themajor cities. Treatment is expensive, however, and medicalinsurance is advised. Asthma, sinus and bronchial ailments can beaggravated by pollution in Buenos Aires. Those with specificconditions should bring a sufficient quantity of medical suppliesand medication for the trip.
Tipping:
A 10 percent tip is expected at restaurants in Argentina.Porters expect some small change per bag.
Safety Information:
Although the political and economic crisis is over, there arestill periodic outbreaks of social unrest and demonstrations.Visitors are advised to avoid such public gatherings and to keepabreast of news to know whether any political disturbances areexpected. However, there is no specific threat to foreigners andtravellers should not be discouraged from travelling throughout thecountry. Be alert for bag-snatchers, pickpockets and con men,particularly in crowded areas in Buenos Aires, on public transportand in popular tourist haunts, such as San Telmo.
Local Customs:
Argentineans are warm and unreserved people. Both men and womengreet each other by kissing on the cheek, and will often touch eachother when speaking and maintain little physical distance betweenspeakers.
Business:
Business people dress well in Argentina and visitors areexpected to wear a smart suit. Handshaking is normal. Argentineansare great conversationalists and are interested and knowledgeableabout world events, politics and sporting. Meetings usually beginwith small talk. Use titles when addressing people: Señor (Mr),Señora (Mrs) and Señorita (Miss) followed by their surname.
Business culture in Argentina can be bureaucratic and as withmost South American countries negotiation and decision making cantake a long time and is best done face to face. Make sure you seethe right people, as only those in high positions are likely to beable to make a final decision. Business hours are 9am to 5pm inBuenos Aires, with an hour for lunch. Outside the capital, it isnormal to take a siesta between 1pm and 4pm. Many business peopleare away on holiday during January and February.
Communications:
The international access code for Argentina is +54. Mobileroaming charges can be expensive, prepaid local SIM cards areavailable for purchase on arrival and are a good alternative. Freewifi is offered at most restaurants, cafes and hotels in touristcentred areas of the country.
Duty Free:
Travellers to Argentina over the age of 18 years can bring inthe following items to the value of US$300 without incurringcustoms duty: two litres of alcohol, 400 cigarettes or 50 cigars,and 5kg of food items. Restrictions apply to fresh foodstuffs suchas meat and dairy products. Prohibited items include explosives,flammable items, narcotics and pornographic material. Firearms andammunition for sporting purposes are allowed if accompanied by alicense/certificate.